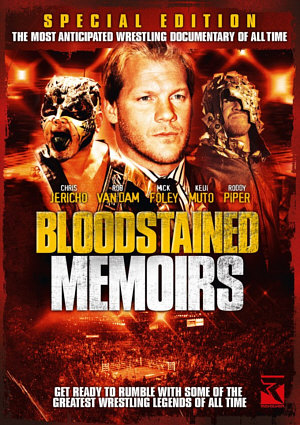 Giveaway OVER! Winner is Mandy! You have a chance to win one copy of Bloodstained Memoirs. U.S. ONLY! One copy for one person. (must be over 18) Ends December 21, 2012 at 12:00 noon EST
To enter, leave a comment below saying where you are located and why you want to win this DVD. Winner will be selected randomly.
Bloodstained Memoirs, a wrestling documentary featuring superstars Chris Jericho, Rob Van Dam, Mick Foley and Roddy Piper.
Featuring exclusive behind the scenes insight into some of the greatest, most historic and groundbreaking matches of the last three decades, BLOODSTAINED MEMOIRS is an insightful and unique look into the world of professional wrestling. Heavyweight legends including Rowdy Roddy Piper, Rob Van Dam, and Chris Jericho talk candidly about the things that matter most to them: their craft and the crucial events in their lives that helped shape their illustrious careers. BLOODSTAINED MEMOIRS is a walk through the ultimate wrestling Hall of Fame. Utterly unmissable, this is the definitive guide to the men behind the legends. Special extras on the DVD include 1994 footage of the Cactus Jack vs Jimmy Snuka match; discussion of the documentary with Arda Ocal and Jimmy Korderas; interviews with Tigers and Monkeys, Christy Hemme, and Juventud Guerrera; an extended interview with Roddy Piper, an Al Snow Blooper Reel, and an introduction with Nora Greenwald.
Starring: Chris Jericho, Rob Van Dam
Directed by: David Sinnott
Runtime: 1 hour 55 minutes
Studio: Revolver Entertainment
This film can be found on Amazon here.
The official website is located here.