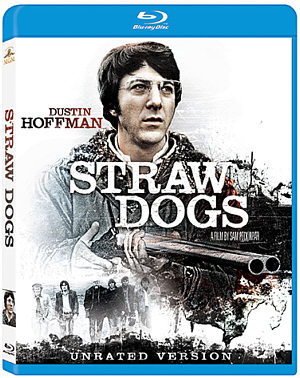 In preparation for the upcoming remake starring James Marsden (X-Men), Kate Bosworth (Superman Returns) and Alexander Skarsgard (True Blood), 20th Century Fox has released the original Straw Dogs on BluRay today, September 6th.
Per the press release:
How far will one man go to protect his wife and his home? One of the grittiest and controversial thrillers of all-time and banned in the United Kingdom for over 18 years, STRAW DOGS debuts on Blu-ray Disc September 6 from Twentieth Century Fox Home Entertainment. Released in celebration of the film's 40th Anniversary and in anticipation of the upcoming theatrical remake, this violent and suspenseful tale from legendary director Sam Peckinpah (The Wild Bunch, The Getaway) stars two-time Academy Award® winner Dustin Hoffman* (The Graduate, Little Fockers) and Susan George (Mandingo, The House Where Evil Dwells).

To escape the Vietnam-era chaos in the U.S., American mathematician David Sumner (Hoffman) moves with his British wife Amy (George) to an isolated English village. Their presence provokes antagonism among the village's men. Escalating from routine bullying to the gang rape of his wife, David finds his pacifist self being backed into a corner and responds in the violent and gruesome manner he abhors.
The original film hit theaters in 1971, the same year as The French Connection, Dirty Harry, and A Clockwork Orange, and these films sparked a national debate over violence in cinema and eroding social standards. The 1970s is considered a golden age by many film historians, and it wouldn't be much of a stretch to claim Straw Dogs helped kick it off.
You can order a copy of Straw Dogs here

.
The film's remake hits theaters on September 16th.