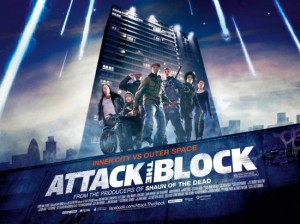 2011 is nearly over, and at the end of every year film critics and bloggers look back and take stock of their favorites before pegging odds for the Awards Season. There are still a handful of films left this year, and a couple (Hugo, The Girl With The Dragon Tattoo, Tin Tin, War Horse) are more than likely going to end up on my Top Ten list. But I can't imagine any film topping the one I've just seen. If they do, then 2011 will be a very good year for cinema.
I know I've been particularly enthusiastic about two films this year: Rise of The Planet of The Apes and Captain America, and I stand by those reviews. They're excellent pieces of popcorn entertainment, the kind that Hollywood seems to have forgotten how to make. I can't imagine anyone not liking those flicks. The anti-Hollywood movies I'm currently head over heels for are Drive and Red State, but I know many who dislike the films or have problems with them, and for good reason. They're mixed bags, and while I enjoy sifting through mixed bags I respect those who don't.
But the film I've just seen blew all those films out of the water. That film is Attack the Block, the inner city vs outer space film by Joe Cornish, frequent collaborator of Edgar Wright (Shaun of the Dead, Hot Fuzz). The film tells the story of a gang of inner city London youths who stumble across the beginnings of an alien invasion and, like any rational kids, they decide to fight back.
It's a simple concept, but the beauty is in the execution. This is Cornish's first feature, and I can't imagine a more incredible debut than this. He wrote the pic as well, and with a script and sense of direction that is constantly moving forward the viewer gets swept up in this unconventional action/horror/comedy easily. The action, exposition, suspense, they all work together in perfect synchronization. it's a marvel.
The group of kids, all unknowns, play their parts perfectly. This isn't a laundry list of cannon fodder for the monster to go through one by one. You believe these kids have been hanging out for ages. They speak in slang and shorthand that implies a real camaraderie, and you can tell these kids genuinely care about each other. We don't get elaborate back stories or long monologues telling us who they are. Their actions speak louder than words, and Cornish gives them wonderful bits of action to play.
So when the beast dwindles the group's numbers, the loss is felt. Really. And the viewer feels the loss just as harshly as the gang, especially their leader, Moses. Moses, as played by John Boyega, is one of my favorite characters in film. Not just this year, but any year. Boyega is a star waiting to explode, and Attack the Block might be just the right spark to shoot him into the stratosphere. He's calm, cool, and collected, but he's smart to give occasional peeks in Moses' head space. There's an extended chase sequence near the end of the film that had the hair on the back of my neck stand on end. I'm grateful to Boyega and Cornish for the experience.
And here's where my review trails off, simply because I can't bear to overtly spoil or ruin the movie for you. I saw this film because it was getting major critical notice, but everyone refused to discuss it in depth. I went in knowing the premise and that was it, and I'm so glad I did. I hope I can provide you the same experience. This movie is a miracle. Experience it for yourself. You'll be glad you did.
Attack the Block is now available on DVD and BluRay. You can order it right here.