A multi-talented man from New York, Carlucci Weyant manages to balance an acting and newly re-launched musical career with producing projects as well. He is a master of social networking and people are easily drawn to him with his easy going and positive nature.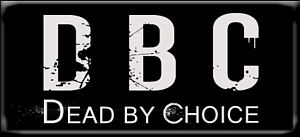 Crash: First, we have to talk about the newest stuff, Dead by Choice! What do we all need to know about the new band?
Carlucci: Yes! DBC!. I hooked up with Christopher Galligan, John Galligan and Nino Valenti late last year to work on this new project/venture. I completely lucked out with all three of them, totally awesome and super talented guys. Before I joined, DBC has been playing in the local circles of New York for a little while. Our vision now is to take this band and share our music to the world. We're currently recording our new E.P, in the process of speaking with other bands to start a tour, setting up merch and all the business related things that go with a band. We're also working on putting a video together to start a kickstarter/indiegogo campaign in the next month or so. DeadByChoice.com | DBC Twitter | DBC Facebook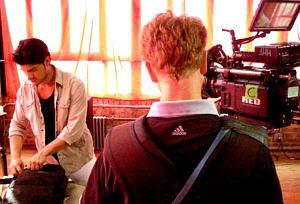 Crash: How long have you been doing music and what's your favorite song on the new EP so far?
Carlucci: I have been playing music for over 15 years but stepped away for a about 8 years as I pursued acting. Before officially joining DBC, I remember jamming one day with them and was like, man I miss this! Favorite song? Hm. It's so hard to say. They're all so unique and different. Chris actually explained it best, We have guitars that range from acoustic, clear as a bell clean to full on distorted chaos. Lots of palm muted, syncopated riffing, melodic lead lines, groove oriented drums with beats based in jazz and tribal polyrhythms. The song structure is tight controlled bursts of anger coupled with a rollercoaster of soft melodic interludes, and sing able choruses. The lyrics are both self focused and outwardly critical. Painted dark with a thick brush of emotion but highlighted by positive counterparts. So In short we play rock music and will punch you in the face! HAH. I would say that the song you hear in the intro video: Dependancy http://youtu.be/_ppVZZv8QO4 is currently my favorite. It's just heavy and groovy, great song to get the crowd rocking.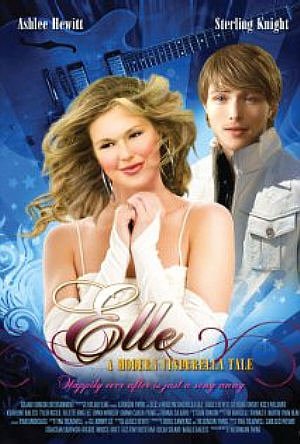 Crash: Your production company Split Vision Entertainment has some cool projects under its belt so far, what is on the horizon that we should keep an eye out for?
Carlucci: Thank you! Yes, its been quite a ride thus far. My partners Kevin Pugliese, Gordon Djordjevski, Louis Peraino and I have been fortunate to be associated with outstanding individuals. We have about 15 projects total in various forms of production. Inferno: The Linda Lovelace story, is definitely one that has gotten much buzz as of late. That film touches on Linda Lovelace's abused life (played by Malin Akerman). We have Jake Stevens: The Last protector a PG action film with one of the kids from Twilight and directed by the Dunson Twins, whom I worked with on the hit film Elle: A Modern Cinderella Tale. This film shoots in a couple of months down in Georgia. Another film that I'm really excited about is a film called "Chapo" written by Robert Miano. It's loosely based on a true story and will contain 1970's New York, Mafia and Boxing. The cast will be iconic and I'll be playing the role of Robert "Chapo" Chapman. We have a number of other projects with JARs Films, Tristan Leostar Films and Dunson Twin Films. This past month we partnered with two highly intelligent and successful individuals and are creating something tremendous! Unfortunately, I can't go into any details even though I'm bursting at the seams but I promise that this will make history and it will change the way things are done in entertainment. On that note, I'll end it with this hint: SVIE
Crash: I've seen the rough trailer for Dedd Brothers and love you guys rockin the leisure suit style. When will we be able to see this and tell us about your experience working on that.
Carlucci: Ah Dedd Brothers! I think I rocked that Green suit nicely! I'm not sure of the release date, I believe we're looking sometime this summer. It's currently in post production and its being repped by a top sales agency . Can't spill out to many details but look out for updates on split|visions website. Working on that movie was definitely something else! I don't think I ever laughed for a month straight in my life. It was really tough keeping your cool and composure while shooting when you have your costars making the most obscene, outrageous faces and sounds. All in all it was a blast working on that set. I think when it comes out, the audience will have a blast with us.
Crash: Who are some directors and actors that you would love to work with and why?
Carlucci: Well, I can't say I have any in particular. I always look forward to working with new and established creators/artists on film. It's amazing what you can learn from people from all walks of life.
Crash: Now.even more fun questions.:
– I know you love Metallica, what is your favorite song? Your favorite concert you attended?
Carulucci: MetallicA!!!!!! My favorite song is any song that falls between Kill em all and Death Magnetic. I have seen them over 20 times by now but I have to say the first concert I went to was my favorite. My dad took me to one of the shows off of the poor touring me tour in Tampa, FL. It was my first MetallicA concert, so naturally I was pumped but the best part was seeing my dad head banging with his horns in the air! That was pretty rad!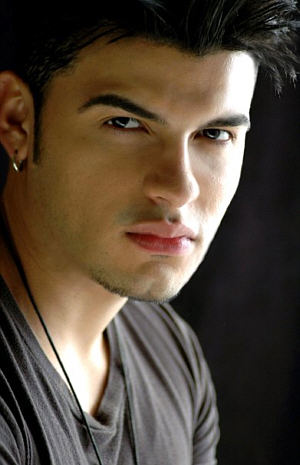 Crash:  What's your newest favorite bands besides your own?
Carlucci: I don't have any new favorite bands but I have been listening to Crossfade and Eve to Adam lately. I have quite an eclectic taste in music so some other artists that I've been listening to are Day.Din (Techno/trance) Ludovico Einaudi (classical) Combichrist (hardcore trance/rock) Trentemoller, Windy City Gentleman(Rock) and Che Broadway.
Crash: If you could make a playlist you think everyone needs to hear, what songs would be on it?
Carlucci: I Don't know if anyone can keep up with my crazy tastes in music lol… Here we go!
I would start off with Hans Zimmer
Hans Zimmer – Time
Iron & Wine – Flightless Bird, American Mouth
Angel Echoes – Four Tet
Eve to Adam – Little Says
1000 Fuegos – Pepe
All Nightmare Long – Metallica
Ludovico Einaudi – Uno
Niayh – A Better Man
Inkalesh – Forest Gathering
Cosmic Gate – Exploration of Space
Niayh – Forgot about Love
Lamb of God – Resolution
Che Broadway – Die 4 Shine
Chet Baker – My Funny Valentine
Crossfade – Dead Memories
Windy City Gentlemen – Need it too
Sigur Ros – Samskeyti
Skrillex – Scary Monsters and Nice Sprites
Type O Negative – My Girlfriends Girlfriend
The Zodiac Feat. Che Broadway – Rock Diesel
Windy City Gentlemen – Ethanol
Marilyn Manson – Spade
Ellen Clegg – Under the Piano
Weezer – Hang on
Tuvan – Gaia
Combichrist – Red
Sigur Ros -Gobbledigook
Plasmic Honey – Dance Slut Free
Green Space – Riktam & Bansi
Day.Din – Dance with me
Velvet Acid Christ – Fun with Drugs
Adiemus – Song of the Spirit
Paradiso – Shaman's Flight
Nox Aracana – Blackthorn Asylum
Scott D. Davis – Nothing Else Matters
Trentemoller – Into the Trees
SunLounger – Another Day on the Terrace
Crash: What's your favorite thing about all the social media outlets you use?
Carlucci: Connection. I love how it connects us so easily to family, friends and fans. It's a great way of sharing and receiving art on a global scale. It's an endless circle.
Crash: What are some of your favorite hobbies?
Carlucci: Being creative, writing, reading, sketching, drawing, playing and listening to music. Researching, learning, sports, football, working out, walking in the dark, meditating, exploring. I enjoy playing my ps3 and watching endless amounts of movies. Spending time with family, teaching and helping others. Tweeting, breathing, yoga, crafting and boxing. I enjoy life and always try things at least once. I'm an adrenaline junkie so anything fast, dangerous and sometimes stupid is on my list!
You can find Carlucci Weyant online here..
www.splitvisionent.com
www.twitter.com/carlucciweyant
www.youtube.com/SplitVisionEnt
www.officiallypluggedin.com/actors/carlucci-weyant.php
By Crash