Actor Michael Joseph was born in Grand Rapids, Michigan, and his ancestry is Dutch and Polish. Michael attended The University of Oklahoma where he received a bachelor's degree. While in college he booked his first television commercial and had the acting bug from that point on. After college Michael relocated to Florida where he began booking work in the modelling industry. Michael booked jobs for companies such as American Crew, Adidas, Tommy Hilfiger, Club Monaco and Schwarzkopf Professional.
Upon moving back to Los Angeles, where Michael spent part of his childhood, he immersed himself into the Los Angeles theater scene to perfect his craft. One of Michael's notable roles, in the theatre, was as John The Baptist in Oscar Wilde's "Salome" at The Luna Playhouse in Glendale.
After the theatre Michael booked a handful of films and that lead him to "The Condo" and "Deadly Re-Union" both from Baron Jay Films and directed by James Cullen Bressack.
Aside from acting in "The Condo," Michael played a major part with his efforts executive producing as well as co-producing, managing the post production and working with James to secure the distribution. Michael took a lesser role in the "Deadly Re-Union" project so he could spend time working to develop two other projects but still worked as an associate producer and had a role as an actor. "Deadly Re-Union" is currently in post-production.
Since the production of "Deadly Re-Union" Michael spent time working with a group of writers to co-write and develop two new projects "Triumph" and "Square Fishin." "Triumph" has gotten the attention of industry veteran Dave Venghaus to direct the project. "Square Fishin'" took Michael to meet with film financing conglomerate Titanium Capital in London. Both projects have been budgeted and are still being developed.
Most recently Michael is in talks with British writer/producer/actor Niki Sheldrake to produce his screenplay "Sex God Todd." Michael's film "The Condo" was released on VOD last month and he recently discussed all of these projects, and more, via a recent and exclusive interview.
Meagan Meehan (MM): What inspired you to become an actor?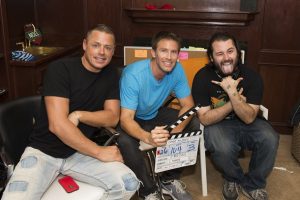 Michael Joseph (MJ): Acting was always something that I just had a feeling about honestly and I am still figuring out why to this day. But like most people, back then, I didn't know how to realize that goal. Careers in entertainment don't exactly provide clear cut paths to getting there like becoming a doctor or lawyer.
MM: How did you get your start?
MJ: When I started my career in entertainment it was as a model. It was something other people encouraged me to do. At a young age I was motivated by wanting to be glamorous and famous like most kids! Sad to say now, but looking back it was true. The industry looked fun and exciting. When I was in high school my father had a friend that owned a salon and he wanted to put together a book of men's hairstyles and he asked me to be in it. But, unfortunately, that book was never made but it was his encouragement that got me believing in myself.
MM: Do you remember the first time you got paid to act?
MJ: As with most actors I did a lot of work for free on projects where I never actually saw the final product. When I earned my first check as an actor I cashed it. At that point in my career I had worked a lot but just not been paid or had been paid but very little outside of some of the modelling work in the beginning stages of my career.
MM: If you weren't acting, what do you think you'd be doing?
MJ: I often ask myself this question and I don't think I have an easy answer for it. Throughout my post college life, I have continuously held a few different jobs in order to always have income coming in while moving my acting goals forward. I always kind of romanticized about being a doctor or lawyer and I would most likely do something to be in service of others. I did work as a marketing consultant for over ten years while I was building my career as an actor and producer. I eventually resigned from my job at Coca-Cola about two years ago. Marketing was a great vehicle to help me accomplish my acting goals but wasn't something I wanted to continue to do any longer than I had to. It was fun while it lasted though I must say. You get to this point in your pursuits in life where you are too far in to turn back. I am at that place as an actor and producer.
MM: How did this movie come to you?
MJ: Baron Jay of Baron Jay Films emailed me the script. At the time he was looking for actors that also could work as producers on the project. I had meet Baron a few years prior when I did a table read for him on a TV show he was trying to put together. Once again, another project that never happened.
MM: What personally appealed to you about it?
MJ: The plot is what initially caught my interest. It seemed like something that would happen in real life. The thought of it made me laugh and I knew it was something that would be entertaining if done correctly.
MM: Did you get a say in how you played the part?
MJ: Yes, I am the one whom created the "Tom" character. I spent many hours working on everything from the way he dressed to the pitch and inflection of his voice to way that he walked etc. It just came to life when interacting with the other actors in the scenes. I spent so much time on preparing for this film that my girlfriend at the time actually broke up with me the day before shooting because she thought I was obsessed and also probably thought I was avoiding her. Who knows…I probably was obsessed but I was determined to get the character correct. I wanted him to be authentic.
MM: Honestly, when the script arrived and you read the name 'The Condo' on it what was your first thought?
MJ: I think in the original email Baron sent to me it gave a summary of the plot. So, there wasn't much room for imagination at least initially.
MM: The film knows exactly what it is – was that part of the appeal for you?
MJ: It appealed to me because it was such a hilarious take on real life. The characters in the film came from all backgrounds and all walks of life. Tom was a character that I knew I wanted to play because he is so different from who I am in real life. It was a challenge for me. As far as the cheating we all know it happens out there but most people would rather pretend otherwise.
MM: How is it working opposite such hilarious men (and women, like Jackie Moore)? How was the comradery there?
MJ: The comradery was good. The chemistry was great. We actually never had any rehearsals or anything. We had to show up ready to shoot. I believe I only had one scene with Jackie. I did watch her shoot all her scenes or the ones she did the days I was on set. She was great! It was impressive to see her do all three different characters.I did have a scene with acting legend Peter Jason. That was cool to see him work. He was hilarious to watch.
MM: I imagine there were some good laughs on set?
MJ: We did have some good times and I think we captured some of that with the outtakes during the end credits. We had a lot of people wearing many different hats so there wasn't as much time to sit around on set as there might have been with other projects.
MM: What kind of direction did your director offer? Did he encourage you to improvise?
MJ: James [Cullen Bressack] was great. Yes, we all were kind of shooting from the hip for most of the film. There was a decent amount of improve. The writers were on set most days and they let us run with it.
MM: Where would you like to be in ten years?
MJ: I would like to be James Bond in ten years. That has been a long-term goal for me since I started acting. I would like to be producing and developing projects also. I have co-written two screenplays over the past two years. I have been working on developing those projects as well. Working as a producer will give me the ability to help others and give them opportunities in the business.
MM: Thus far, what has been the best part of working in the movie industry?
MJ: The journey. The stuff you don't see when you watch a film. Acting has been something that has helped me learn more about myself as well as human nature. Acting has helped me to be more comfortable in my own skin and get out of my comfort zone. Understanding the dynamics of human behaviour and why it is that we do what we do is something that has always fascinated me.
MM: What advice would you give to someone who is aspiring to enter the industry, especially as an actor?
MJ: Become a student of acting and enjoy all the work even the smallest of stages. Work on being the best you can be and let the universe and God work everything else out. Work hard and put yourself in front of as many people as possible and don't be afraid to fail. Understand that you should have something to pay your bills short term while you work on your long-term goals in entertainment. Be persistent, work hard and get out of your own way.
* * * * *
To learn more about Michael Joseph visit his IMDb and Facebook.