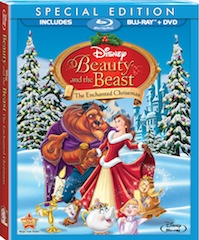 The original Beauty and the Beast is out now on BluRay and slated for a 3D run in just a few months, and Disney is set on keeping you aware of their classic by releasing the film's sequels An Enchanted Christmas and Belle's Magical World

on BluRay and DVD on November 22nd, 2011.
Per the press release, here's a synopsis of Beauty and The Beast: The Enchanted Christmas:
Celebrate the most magical time of the year with this Special Edition of the irresistible holiday movie inspired by Disney's beloved classic. For the first time in spectacular Blu-ray High Definition this captivating gem reunites the original voice cast!

Share the wonder as Mrs. Potts recounts another "tale as old as time" about a Christmas past that almost wasn't – thanks to the scheming of former court composer Forte, who is determined to keep Belle and Beast apart forever.

This enchanting adventure boasts exciting bonus features, delightful songs, spellbinding visuals and enduring themes of hope, friendship and love. Your family will enjoy the spirit of the season all year long with the timeless magic of Beauty and The Beast: The Enchanted Christmas.
And now here's a synopsis of Beauty and The Beast: Belle's Magical World:
From the "tale as old as time" comes a new Special Edition inspired by the original classic, Beauty and the Beast.

Join Belle, Disney's spirited princess, Beast, Cogsworth, Lumiere, plus some charming new friends, as they discover how teamwork and friendship can turn a once-gloomy castle into a dazzling palace fit for a princess!  Adorned with delightful bonus features, your favorite characters and enchanting songs, this fun-filled, instant classic proves that true beauty shines from within!
I can't speak for Belle's Magical World, having not seen it, but The Enchanted Christmas will certainly make an excellent holiday gift for any little ones who love the original film.
Both features hit store shelves on November 22, 2011.