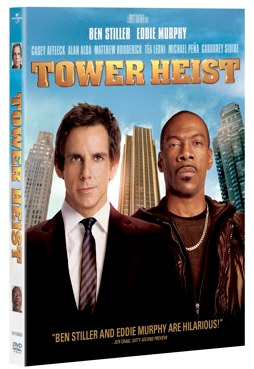 Tower Heist comes out on Blu-Ray and DVD on February 21, 2012. Here's the synopsis of the movie:
"When the staff of New York City's most expensive and luxurious condominium discovers that the billionaire investment advisor living in the penthouse has plundered their retirement fund, they take matters into their own hands in a "downright fun, comic caper" (Mike Scott, Times Picayune). Convinced that light-fingered Wall Street Titan Arthur Shaw (Alan Alda) has stashed his ill-gotten millions in his apartment, building manager Josh Kovacs (Ben Stiller) rallies his troops and enlists the help of small-time thief Slide (Eddie Murphy) to make sure they get back what's rightfully theirs. These rookie thieves—including high-strung concierge Charlie (Casey Affleck), broke ex-Wall Streeter Mr. Fitzhugh (Matthew Broderick), new bellhop Dev'Reaux (Michael Peña) and feisty maid Odessa (Gabourey Sidibe)—know the building better than anyone. It turns out they've been casing the place for years…they just didn't know it."
Included in the Blu-ray™ Combo Pack is an all-new UltraViolet™ copy of the film. UltraViolet™ is the revolutionary new way to collect movies and TV shows, put them in the cloud and stream instantly to computers, tablets and smart phones and soon, and download to devices too. The Tower Heist Combo Pack also includes a DVD and Digital Copy of the film which is compatible with iTunes®, iPad®, iPhone®, iPod™ touch, Android or other retail partners. So now, enjoy the movies and TV shows anytime, anywhere! The Blu-ray™ also includes Universal's Second Screen—a technology that enhances the viewing experience with simultaneously control and interaction with the film and bonus material on a WiFi-connected tablet or computer as the movie plays on the television screen. The new Flick View Feature will allow interaction even more with the movie and be able to move content from tablet to TV screen.
There are two Hilarious Alternate Endings & Exclusive Bonus Features which should be good fun.
CAST AND FILMMAKERS:
Cast: Ben Stiller, Eddie Murphy, Casey Affleck, Alan Alda, Matthew Broderick, Stephen McKinley Henderson, Judd Hirsch, Téa Leoni, Michael Peña, Gabourey Sidibe
Directed By: Brett Ratner
Screenplay By: Ted Griffin and Jeff Nathanson from a story by Adam Cooper & Bill Collage and Ted Griffin
Producer: Brian Grazer, Eddie Murphy, Kim Roth
Executive Producers: Bill Carraro, Karen Kehela Sherwood
Director of Photography: Dante Spinotti ASC, AIC
Production Designer: Kristi Zea
Edited By: Mark Helfrich
Visual Effects Supervisor: Mark Russell
Costume Designer: Sarah Edwards
Original Music By: Christophe Beck