I haven't seen every movie released this year. Even with the assistance of VOD, Netflix, and the many platforms we're able to use when it comes to ingesting films I haven't been able to see everything. So with that in mind, this isn't a BEST OF 2011 list. This is more of a highlight reel, a look at 10 films that best represent what the year 2011 was all about. They're my favorite films of the year, and I'm pleased to share them with you.
 #10—-Mission: Impossible–Ghost Protocol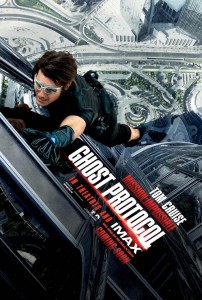 Studios have been backing 3D as the future of cinema for a few years now, and while I've enjoyed some 3D showings and detested others (I'm looking at you, Clash of the Titans), I've never had a bad experience in my local IMAX theater. It's possibly more immersive than even the best 3D, and Brad Bird takes advantage of the massive scope IMAX presentation can offer. He also gave action fans a reason to love Tom Cruise again.
Ghost Protocol isn't the best Mission film, but it is the most fun. Some script issues keep it from ranking higher on my list, but the amazing visuals, stellar cast, and sublime direction more than makes up for the slight story. In my original review, I said: "With thrills, chills, and excitement all the way through Mission: Impossible—Ghost Protocol is required viewing." 'Nuff said.
Mission: Impossible–Ghost Protocol is in theaters and IMAX now.
#9—-The Ides of March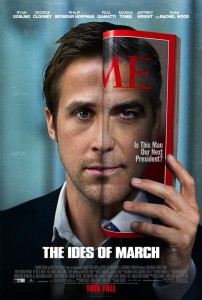 George Clooney is perhaps my favorite movie star working today. He's at the point where he can do whatever the hell he wants, and he seems hellbent on using that power for good. That good involves directing The Ides Of March, a film that pretty much defines the disillusionment we all go through when we realize that America will never truly work the way it's supposed to. Ryan Gosling turns in one of two stellar performances this year as Clooney's campaign manager, and his downward spiral into bitterness and desolation mirrors the American public's that has occurred over the past few years. This film will probably be overlooked come Oscar time, and it's a real shame. Clooney proves himself with this picture, showing that he has what it takes to be the next Clint Eastwood: a great actor that's just as great when he steps behind the camera as well.
Ides of March will be out on DVD on January 17th. You can pre-order a copy right here.
#8—-Captain America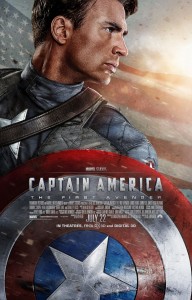 In my original review of Captain America, I wrote: "Captain America is about a time when we had something worth fighting for, and (to borrow from Friday Night Lights) with clear eyes and full hearts we couldn't lose. I assure you, this isn't some nostalgia-based movie wagging its finger from 70 years ago and telling us how we screwed it all up. No. Captain America is a solid reminder of everything our country once was, and might be again." I stand by all that. Ides of March highlights where we are in 2011, and Captain America showed us where we could return to. As necessary as it is for film and art to comment on the current society, it's also necessary to offer a little light to show the way.
On top of all this, Captain America presented a delightful return to form for director Joe Johnston, and provided a wonderful action-adventure film for those who remember a time before shakey-cam and excessive CGI. Captain America is old school, quality entertainment, and Marvel should be damn proud.
Captain America is currently available on BluRay.
#7—-Red State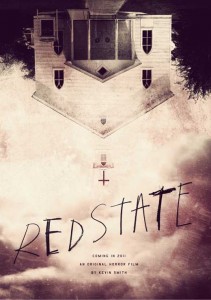 I already mentioned Netflix, VOD, and the many other avenues we have in the intro. Red State, Kevin Smith's controversial excursion into the horror genre, took advantage of all of that. It isn't the only film to gather word of mouth traction via Twitter and multi-platform releases this year, but it is the most notable. Smith is a mini-major director, and he got so fed up with the Hollywood distribution system that Red State became something of a reboot for his career. It helps that Red State s the type of film that demands discussion once the credits roll. In my review I called it an "interesting mess," and this mess has spurred some of the most interesting and complex conversations I've had all year. I don't love Red State, but I do love everything that surrounds it. That's enough to earn a slot on this list.
Red State is available on Netflix Instant and BluRay.
#6—-Hanna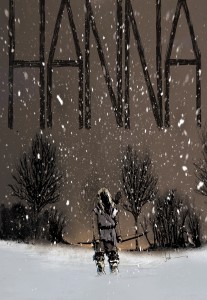 It's taken me a couple viewings to warm up to Hanna. I wasn't too keen on it after my first viewing, and a second pass highlighted some of the problems. But that second pass also brought out a lot of the positives, and I'll admit to being an easy lay for films that offer a mixed bag. Hanna is the biggest mixed bag on this list, and I love sifting through it during each watch and trying to put a finger on what the whole thing really means. The film offers a weird pastiche of fairy tales and spy films, and while the two tastes don't go great together, they offer an intriguing flavor. Of course, a powerful performance by Saoirse Ronan and sublime direction by Joe Wright certainly helps the concoction go down.
Hanna is currently available on BluRay.
#5—-Midnight In Paris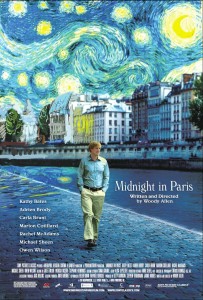 It'd be easy to claim that Woody Allen is back, but the truth is he never really left. He's been slaving away, hammering out movie after movie, and in truth it's the film fans who eagerly devoured his work in the 70s and 80s that went away. A Woody Allen movie became more of an exercise than anything else, and film critics grew wise to the man's motifs and recurring ideas. But everything just clicked right into place for Midnight in Paris. Maybe it was the new setting, or the inspired casting of Owen Wilson (there's a sentence I never thought I'd write), or maybe Allen just had a really excellent cup of coffee one morning. Whatever happened, I'm grateful it did. Midnight in Paris is a wonderful little fable, and the in-jokes for Art and Literature fans such as myself is the icing on the cake.
Midnight In Paris is currently available on BluRay.
#4—-Drive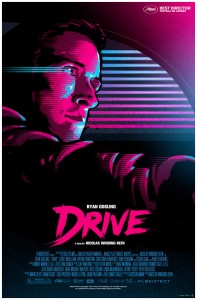 I can't think of a more polarizing film than Drive. From the aesthetic to the content, top to bottom there has been absolutely no consensus on this film. A mix of Scorsese, Ford, and Godard, Drive features Ryan Gosling in his second amazing performance this year as an unnamed driver that gets into a whole heap o' trouble.
From my original review: "I wasn't enamored by the film upon exiting the theater, but days later I'm still thinking about it. It's still clicking around in my head, and as I continue to examine it from multiple angles I keep coming up with a beautiful, but flawed, work. It has some interesting things to say not just about the human condition, specifically our tolerance for moral ambiguity, but also how we take in film and other media; how we're used to stories being told and what happens when someone refuses to bow to our expectations. There's something to be said for a film that defies all expectations. This is a movie for people who love movies. I see roughly 100 new films a year. I've never seen anything quite like Drive."
On top of all that, the soundtrack is incredible. I've listened to "Nightcall" more times than I can count. This film definitely has the best score of 2011.
Drive will be available on BluRay on January 31st. You can pre-order it here.
#3—-Rise of the Planet of the Apes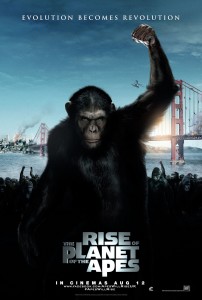 This flick came out of left field for me. I like the original Planet of the Apes films a lot, but I never really cared to see an explicit depiction of how Caesar came to power. It felt like however the film-makers would present the outcome, I'd be disappointed. I am so, so glad that Rise Of The Planet Of The Apes does not disappoint.
My original review is pretty effusive, but I stand by every word. Andy Serkis deserves an Oscar for his work, and not in a Supporting category. Caesar is unquestionably the star of this picture, and one of the most amazing technological marvels of 2011.
And even setting that aside, director Rupert Wyatt has done for the Apes franchise what Nolan did for Batman: he brought it into the 21st century with respect, grace, and love. More than any other franchise, I want to know where these Apes pictures go next.
Rise of the Planet of the Apes is currently available on BluRay.
#2—-Attack the Block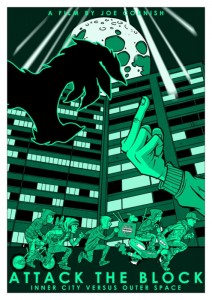 In my original review I boldly claimed Attack the Block to be the best film of the year. Well, time proved me wrong on this, but as you can see it still ranks damn high.
It is certainly my most re-watched film of the year. The short running time helps, but there's also the kinetic energy that bleeds throughout the picture. Moses remains my favorite character of 2011: a bold, brave kid who's just doing his best with what he's got.
Joe Cornish's first feature is a simple concept executed perfectly, and I eagerly anticipate his next work. Until then, I'll keep watching Moses and his gang kick alien butt and smile with glee. 2011 has been a good year for popcorn cinema, and this is the absolute best.
Attack the Block is currently available on BluRay.
#1—-Hugo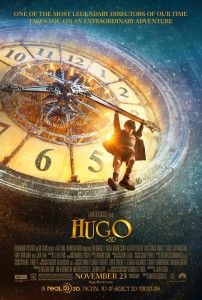 So what makes Hugo take the top spot from Attack the Block? Well, all I can say is that the other nine films on this list are excellent flicks, and I love them all. But Hugo was practically a religious experience for me. It says so much about where cinema is, where it was, and where it could be going, and it restored my faith in the magic that can be had at the movies. Nothing in 2011 came close to re-affirming my faith in cinema as much as Hugo did. Scorsese could rest on his legacy at this point, but he refuses to fade off. Instead he continues to push the boundaries of filmmaking, and 3D is legitimized as more than a gimmick under his direction. I love all the movies on this list, but only Hugo can illuminate how I came to be able to love them in the first place.
Hugo is in 3D theaters now.
So that's that. It's been a pleasure sharing my opinions and ideas with you this year, and I look forward to continue doing so in 2012. Here's where I give special thanks to Wendy Shepherd for running MovieVine and giving me a platform that I truly appreciate. I also want to credit Melissa Sheets for the cool header image provided above. And to all of you reading this: I wish you a very pleasant 2012.