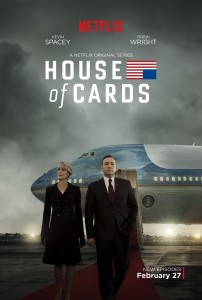 The third season of the hit Netflix series House of Cards is set to premiere on February 27, 2015 with 13 new episodes. In his Golden Globe and Screen Actors Guild awarded performance, Kevin Spacey, returns as the newly sworn-in President Francis J. "Frank" Underwood. Spacey, who also plays real life President Richard Nixon in the upcoming Elvis & Nixon film, features on the first poster for the season, along with Golden Globe Winner Robin Wright, who portrays Claire Underwood.
With little known of the plot, the previous two seasons followed Underwood as he made he was from angered Congressman and House Majority Whip to Vice President and now President. After a broken promise from then-President Garrett Walker (played by Michel Gill) to make Underwood Secretary of State, Underwood, with his wife Claire, set forth a plot of vengeance to take total power for himself, with the season finale of Season 2 seeing him take President Walker's place.
With returning cast members being somewhat unknown, Spacey and Wright of course return, alongside Mahershala Ali as Remy Danton, Derek Cecil as Seth Grayson and Jimmi Simpson as Gavin Orsay, as seen in the trailer. New cast members include Lars Mikkelsen, Kim Dickens and Jenna Stern.
You can find out more about House of Cards on the official Facebook, and Twitter.
https://www.youtube.com/watch?v=sU9QTLXYCCc