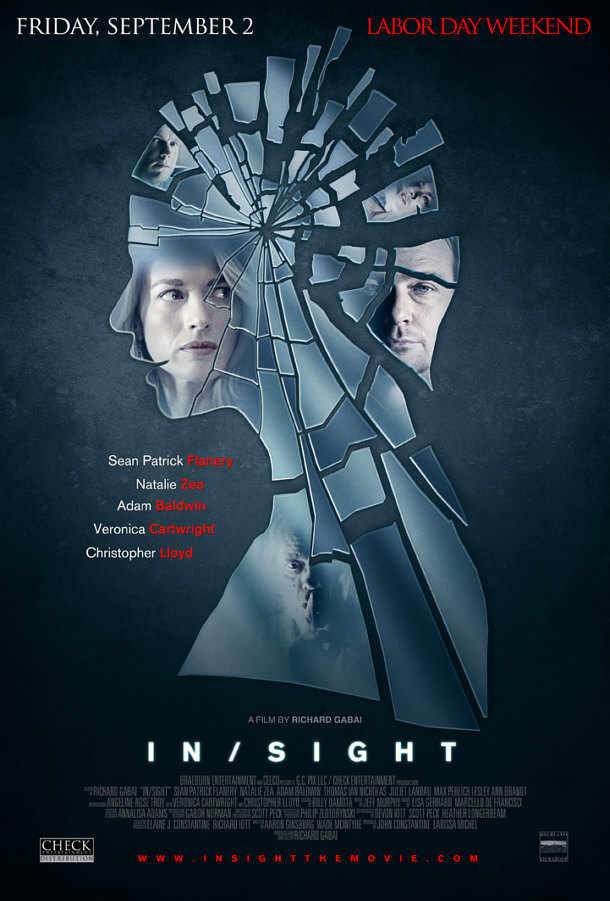 The premier release for Check Entertainment Distribution is the latest film from veteran award winning Independent Filmmaker Richard Gabai. The film is called "Insight" and will hit the big screen on September 2, 2011 (selected theatres). Prior to discussing his new film "Insight", which is causing a large buzz on social media sites, I spoke with Richard Gabai on the path traveled to date.
Jim:  Who inspires you as a Director?
Richard Gabai: "Hitchcock, Martin Scorsese, Steven Spielberg.  I know those are kind of cliché but I'm just being honest. "
Jim: Richard you literally have cut your teeth in the always challenging world of the Independent filmmaker. For years Indie Films were associated with low budget meaning lesser quality. That may have held water then but along came breakout Indie films like Paranormal Activity and Blair Witch blowing away box office sales. It has forced Major Studio Productions to readdress the significance and quality being generated by Indie filmmakers.  But even before this change in attitude and perception you have been very successful in getting at least 12 films out there. Your first "Assault of the Party Nerds", made for $40,000, which grossed $500,000 world wide. You obviously figured it out  formula wise and followed quickly with "Virgin High" and then "Vice Girls"  both of which became came "cult" or niche favorites. Working under the financial constraints, give us an 101 on making a go in the Indie world? In a perfect world you would always have 3 things: a great script, great talent and Money.
Richard Gabai: "I'm really proud of the early films like Party Nerds and Virgin High – they were on TV when there weren't 700 channels and the internet – so when the one HBO channel showed Virgin High millions of people saw it.  The market has changed so much there just isn't any sort of parody in today's world.
"The one rule I always stick to is to make a film that I believe in and am sure will make some money for my investors.  This is the motion picture business and business comes first. I wouldn't say that I've figured it out formula wise but I do have a basic m.o.  I, direct, act, produce, and write songs for a living.  It's my job and everyday I go to work at it no matter if it is developing new material, making new contacts, or actually going on set or in the studio."
"The fact that we have so much fun that it should be illegal is a bonus. By the way, you mention Vice Girls and  I ran in to Quentin Tarantino at a bar in Hollywood one night and he recognized me and told me he loved Vice Girls – that was a good night."
Jim:  The next move you made is into the genre of family films. You were hot out of the gate with your film "The Bike Squad" which was shot in 12 days for $200K. The movie wins you a Genesis Award for Best TV Movie with its premiere on Showtime. You then roll out three more successful Family Films with Fox's "Moto-X-Kids, Starz, Showtime "Miracle Dogs Too" and "Popstar"" with New Line Cinema. These were all shot on 15 day schedules with budgets under $1 Million dollars. This is still low budget but to the average person outside of the film industry that seems strange to hear. Please explain in layman terms why it would still be low budget?  The switch to Family Movies was predicated by choice, opportunity?
Richard Gabai: "Well in a town where most studio films are in the 50-250 million dollar range, under a million is, well, under a million and pretty low.  Stuff is expensive and when we shoot a movie we have like 70 crew and crafts people on the payroll – that isn't cheap."
"I'd been wanting to work in other genres all along.  Pretty early on we did "Kickboxing Academy", a rather forgettable family film that played on TV like crazy., so when the opportunity arose for me to direct the "Bike Squad" I jumped at it.  That happened around the time that I got married and started a family of my own so it all kind of made sense.  Then I got hooked up with a producer and the rest followed right after that. " Call of the Wild 3D" is the family film I'm most proud of and we produced that one ourselves.  It is the first independent digital 3D film to be released theatrically, and I'm told it is still the only all live action digital 3D film. We shot that in 15 days also and it's in digital 3d like Avatar.  I met my great pal Christopher Lloyd on that film, so it will always be very special to me."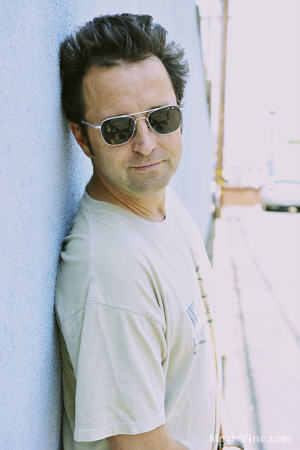 Jim: Tell me about Check Entertainment Distribution a company you formed by and for Independent filmmakers.  What does your company offers as an alternative?  Use "Insight" as an example?
Richard Gabai: "Well "Insight" is kind of the guinea pig. Check Entertainment Distribution is bringing independent films to theaters with a streamlined process.  We are going to do on a national level what a filmmaker might be able to do in his own small town. My colleague Susie Niwa has over 25 years experience in exhibitor relations so she can pick up the phone and get anybody on the line.  "Insight" is booked all over the place including The AMC Empire in Times Square – that's about as good as it gets!
Jim: Which brings us to your upcoming theatrical premiere of "Insight" on September 2. This is causing quite the buzz on Social Media Sites and there are some great comments on the excitement being generated. I have to mention a number of thumbs up have been passed to me concerning what may be one of the coolest posters around. A twist of darkness with a cyber stir, topped with piercing eyes!  So have the mainstream media picked up on the vibe?
Richard Gabai: "The poster is great and it really suits the film.  I owe that one to my foreign partner Arianne Fraser and her Company Highland Film Group who were smart enough to hire a very high end designer to create that.  I have no idea who is picking up what buzz I just hope it's out there and it peaks on Labor Day Weekend."
Jim: How did you assemble such a great cast and  was it hard to convince stars like Sean Patrick Flanery , Natalie Zea  to get on board ?

Richard Gabai: "The script was really the key ingredient to attracting the cast.  Really that's what did it.  Nobody was in it for the money on this one; really the right people interested and available at the right time. The same can be said for the crew, I couldn't have dreamed up a better team."
Jim: What is next for Richard Gabai?
Richard Gabai: "Well its Friday afternoon so I think I'm going to pour myself a drink!"
Theatrical Trailer:
Synopsis : Shot in the "seedy Boyle Heights district" in Los Angeles, Insight follows Kaitlyn (Natalie Zea), an ER nurse, who while tending to a young stabbing victim, Allison, is accidentally electrocuted by the defibrillator that was being used to save the woman's life. Almost immediately she starts to experience the victim's memories. Kaitlyn turns to family, friends, and the police, but no one takes her seriously, so she takes it upon herself to solve the crime – as the terrifying visions threaten her sanity.  Ultimately, Kaitlyn teams up with detective Peter Rafferty (Sean Patrick Flanery) and weaves her way through the victim's past in an attempt to discover the brutal truth about the murder and herself.
Starring: Sean Patrick Flanery (Powder, Saw) , Natalie Zea (Justified, Californication) Adam Baldwin (Chuck, Independence Day, Full Metal Jacket) Christopher Lloyd (Back to the Future, Taxi, Star Trek, Aadams Family) Thomas Ian Nicholas (American Pie, Rookie of the Year) Max Perlich (Blow, Cliffhanger) Juliette Landau (Ed Wood, Buffy the Vampire Slayer) and Veronica Cartwright (Alien, Witches of Eastwick, The Birds.)  Angeline Rose Troy is introduced as Allison Parkes
Official Site: http://www.insightthemovie.com
Check out the current theater list on the Official Facebook Page: http://www.facebook.com/event.php?eid=134429686644880
Official Facebook Page: http://www.facebook.com/insightthemovie
By Jim Lavoie