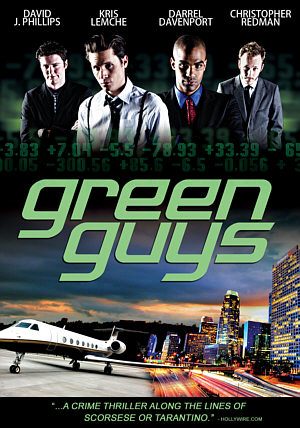 Green Guys, a stylish thriller with a strong ensemble cast, makes you like the bad guys so much you're rooting for them, just a little bit. The film is currently on a multi-city tour, debuting in theaters across the country thanks to a partnership with movie screening company, Tugg. Movie Vine contributor Katie Moeller attended its Los Angeles premiere screening on October 24th and spoke with the writer/director of the film, Cole Mueller, and exec producer, Sean Meier.
Green Guys is a potboiler drama with one foot thematically in the rack pat era and another foot in our more cynical, post-Bernie Madoff age. The four central characters, Travis, Andrew, Levi, and Billy, have retro sensibilities, playing high stakes poker and smoking elegant cigars. Those sensibilities are juxtaposed with their far less romantic occupation–ripping rich folks off. They present themselves as investment brokers to wealthy clients and then "invest" their money, though not in stocks. They perpetrate a scheme that would make Bernie Madoff proud, committing cyber theft of the funds and funneling the oblivious investors' own money back to them as dividends. This works out quite well for a time, but quickly the foursome's world unravels when they cross paths with a Mexican drug lord (played with panache by Roberto "Sanz" Sanchez).
The action is filmed with verve by writer/director Cole Mueller. The movie's stylish take on the world of cyber theft came from a rare moment of inspiration for the filmmaker, who was partly inspired to write the film by real life events, but was also keen to pay homage to a chapter in cinematic history:
"Well, actually how it started was, I wanted to do something that felt like the Rat Pack. I was  at my friend's house and saw that poster of all the guys around the pool table and I said I want to do a movie that feels like that, but more towards the Frank Sinatra era, not the Ocean's Eleven thing. And this was at the same time as the Bernie Madoff scandal broke, so I was like here's my concept and here's my plot, boom, and it just came together that this was their plot."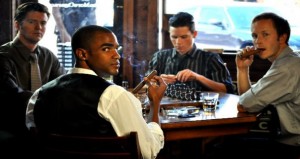 Once he had the idea for the movie, production progressed quickly. He was introduced to producer, Sean Meier, at a birthday party via a mutual friend. Sean was instantly attracted to the project, due in no small part to the fact that the movie's events mirrored something personal for him: "I liked the movie. It was timely because it was written when the whole Bernie Madoff scandal was happening. I actually put money into something that ended up being a ponzi scheme myself, so I got swindled out of some money and it kind of hit home."
Principal photography took place completely on location in Arizona, and the bleak but lovely landscape is showcased nicely. For Cole, the decision to film in Arizona was an easy one: "I lived in Arizona my whole life until I went to USC, to college. I have so many friends and family connections in Arizona that for a low budget project we just saved a lot of money. We had a lot more freedom with where we could go, locations-wise. We had more crew help us out, as favors, a lot of our crew worked for free. Young people that I know and all my friends would come to set, and that was just a huge part of it. I recommend it to anyone making their first movie, if it's going to be a low budget movie, to make it in their hometown, because they know more about the city and where to go and it's definitely the way to do it."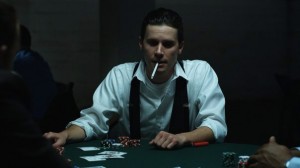 In fact, Cole notes that shooting in Arizona was crucial to the movie's sequences: "My Dad works downtown in Arizona and I actually wrote the movie around his office building in a huge way because I knew we would have access to it. I knew it was where the characters would be a lot of the time, if we get to film at this huge office building for free then I'm going to write 80% of the movie to take place at these boardrooms at the office. That was another big reason we had to be in Arizona, because we weren't going to get that in LA or anywhere else."
Sean describes how difficult it can be for independent productions in LA to find affordable locations to shoot, saying, "I think out here in LA they're so used to having people come and film that the prices that they can charge out here are astronomical versus somewhere where they're not used to having much filming. That benefited a lot on the financial side of the movie."
Opting to film in Arizona positively impacted the casting process as well, the central four male characters all have tremendous chemistry. Cole describes how the four actors came to be in the film: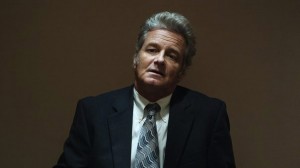 "Well, I had Darryl [who plays Levi], he was someone that was my friend in Phoenix, and when I started off writing the project I thought I was going to do it just with me and my friends pretty much. I cast him right away, I was writing for him, and then after I finished the script, I said okay that guy's cast, I need someone else who can play kind of a stock broker, so we posted on Actor's Access in LA, and David [who plays Andrew] submitted and I met with David, and he was exactly the character I wrote. I met with him and told him, okay this is going to be super low budget, can you get in here, and he was like absolutely, I would love to do this. And so he knew we were trying to make it any way we could and said, I actually have a few really good actors that I'm friends with, that you should look at. And one was Chris Redman [Billy], who had been on CSI: Miami and was a working actor, great actor. He read the script and agreed to do it…and then both of those guys were like you've gotta get Kris Lemche, we've known him forever too, he was in Final Destination, he's had some big movies come out, but he's still looking to work and do some indie features and stuff. So they were all friends, already. And then they all had natural chemistry together."
The film features compelling performances all around, but Kris Lemche and Christopher Redman, who play Travis and Billy respectively, shine in particular. A surprise guest-starring role was played by William Russ (to anyone who was a kid in the 90's, he played Corey Matthews' Dad on the seminal series Boy Meets World). He provided what could have otherwise been mundane FBI offices scenes with attitude and some very affecting bad words.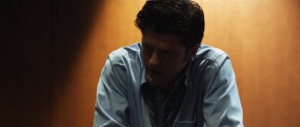 The Green Guys production team joined forces with Tugg for the LA screening as part of a multi-city tour. Tugg is the crowd-funding answer to screening an independently produced film–you have to reach a certain amount in ticket sales to successfully screen the movie. It's a great new tool for movie-makers. Cole considers them, "the best people out right to make a deal with to get in theaters. It makes a lot of sense, it gives us incentive and it also gives us this opportunity that if we can get people to show up, we can screen it in a place like this."
Sean also appreciates the opportunity Tugg presents, he adds, "Tugg was created by a filmmaker as well, Terence Malick's producer, Nicolas Gonda, who's a friend of mine. He's doing great things for other filmmakers, which I think is really going to benefit a lot of smaller films."
Green Guys continues its partnership with Tugg next in New York City. The setting seems particularly appropriate for Cole, who notes, "it's about Wall Street and stock-brokers!" After New York, Cole wants to head to Chicago, and then to his hometown in Arizona.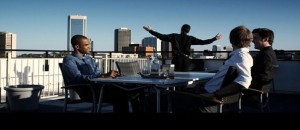 Green Guys can be seen in theaters in select cities (continue to check back on the Green Guys Facebook site for updates) and is now available for purchase on Amazon.com, iTunes, Walmart.com, Video on Demand, and Playstation.
Be on the lookout for more from both Sean and Cole, who have multiple pictures coming soon. Sean has two movies on the horizon, The Appearing, and a high school wrestling comedy that will be out early next year,  Champion of Glory. Cole's next project, Magic Hour, stars C. Thomas Howell and Trevor Morgan, and will most likely be out next year as well.
Follow Cole and Sean on Twitter to hear updates on Green Guys and their other upcoming projects: @thecolemueller and @seanrobertent. And check out the Tugg page for information about the upcoming screening in New York on Nov. 15th: http://www.tugg.com/titles/green-guys?location=global&state=upcoming
View the trailer: http://www.imdb.com/video/screenplay/vi2441322009/
Special thanks to Christine Greene for her very crucial assistance on the day.
By Katie Moeller