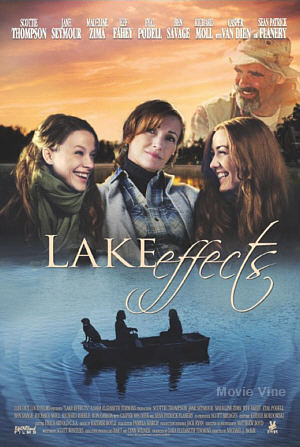 Lake Effects will premiere on The Hallmark Movie Channel on Sunday May 6, 2012 at 8:00 PM as part of the channel's Mother's Day Promotion. Additional air dates following the Premiere are TBD.
This movie stars Scottie Thompson (Star Trek), Jane Seymour (Wedding Crashers), Madeline Zima (The Nanny), Jeff Fahey (Machete), Ben Savage (Boy Meets World), Casper Van Dien (Sleepy Hollow) as Ash Henson and Sean Patrick Flanery (Powder) as Mark Futterman.
Here's a bit more about movie: After the loss of their father, two estranged sisters, one a high-powered attorney and the other a small town girl, reunite with their mother at their enchanting family lake house where they grew up, and find that the secret to overcoming tragedy and rebuilding hope lies is their ability to look deeper at themselves.
Lake Effects has shown at some film festivals. It was an Official Selection and took 3rd place in the Appalachian Film Festival (Huntington, WV Feb. 24-25) and was also an Official Selection at The Omaha Film Festival (Omaha, NE March 8-11).
It won't be long before this Live Life Out Loud, LLC produced movie hits DVD.