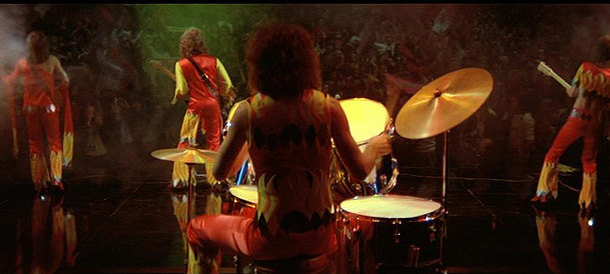 Over the course of a Christmas week I can easily clear twenty plus movies without breaking a sweat and this Christmas was no different. While barely moving from the sofa, except to take another chocolate from the Christmas tree I rediscovered a little known British movie gem 'Slade In Flame'.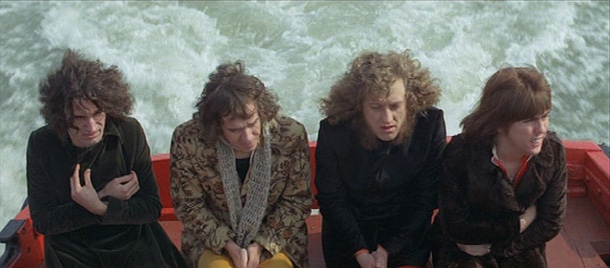 In my early twenties I worked as a camera operator and assistant editor for a London based production company which made documentaries including 'Peter Green: Man Of The World', a documentary about the founder of Fleetwood Mac. While working in the day on that I got a chance to earn some extra cash working nights editing a documentary for the reissued 'Slade In Flame' DVD entitled 'From A Spark To A Flame'.
I didn't know much about Slade apart from their overplayed, over-cheesy Christmas song 'Merry Christmas Everybody' and their smash hit 'Cum On Feel the Noize' which was brilliantly covered by Oasis in the nineties. While doing a bit of research I discovered Slade had actually achieved an amazing 17 consecutive top 20 hits, including six number ones, as well as being managed by ex Animals band member Chas Chandler, who also managed Jimi Hendrix. Even though Slade aren't exactly my or most people's cup of tea you have to respect what success they achieved.
It was only watching the movie for research before I started editing the documentary, that I found not only did I love the film but I also adored the soundtrack – which still remains one of my favourite albums to date. I am not in bad company thinking that, as Noel Gallagher of Oasis fame feels exactly the same, as well as popular British film critic Mark Kermode.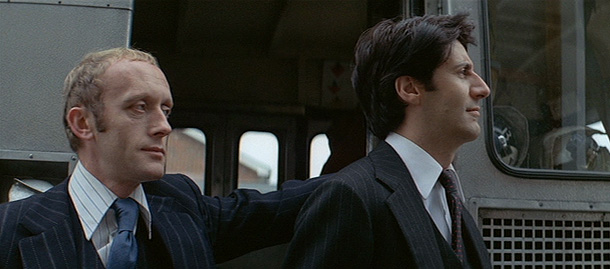 'Slade In Flame' isn't exactly what you expect from a 70's film starring a successful pop band. It's definitely not like The Beatles' 'A Hard Day's Night'. It's dark and gritty with a smart script showing how young bands can get swallowed up and spat out by the music industry. Honest cinematography showing a bleak looking England which almost looks like 'Get Carter' or 'The Long Good Friday'. Also some decent acting performances, especially from a young Tom Conti who would go on to be nominated for an Oscar for 'Rueben, Rueben' as well as most recently appearing in 'The Dark Knight Rises'
As a film starring four band members who have no acting history to speak of it is obviously flawed but in my opinion that adds to the charm. There's just something about this movie which I can't get enough of – flaws included. I can't recommend this little gem of a film enough but don't just take my word for it. BBC's Mark Kermode calls it the 'Citizen Kane of rock musicals', famously hard to please film critic Barry Norman said 'It had real grit, real integrity and was something of a surprise' and Q Magazine called it `The greatest rock movie ever made'.
Find the film (it was on BBC iplayer recently), download the soundtrack and try your hardest to form an opinion without thinking about that overplayed Xmas song that no one wants stuck in their head, not even at Xmas.