Partners In Crime films has recently released the new Alpha Males Experiment DVD and Original Soundtrack for the feature film.
The Film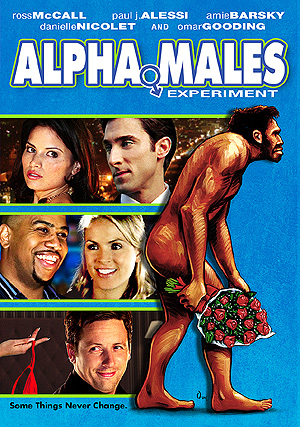 ALPHA MALES EXPERIMENT takes a humorous but very real look at the state of modern male/female relationships. ALPHA MALES EXPERIMENT is the romantic comedy from a male perspective.
The story follows Ethan, an all around nice guy who gets dumped because he wasn't able to provide his fiancée with the plush, stable life her friends were living. Desperate to get her back, he seeks help from his older brother Kyle, a tough talking sexist who seems to have a way with the ladies. Kyle gives Ethan a crash course on women and dating, much to the disgust of some of Ethan's female friends. Just when it seems Kyle's misogynistic theories are about to prove themselves to be true, things take an unexpected turn and force Ethan, Kyle and their friends to reassess each of their views on relationships.
In the spirit of movies like Jon Favreau's SWINGERS and Edward Burns' BROTHERS MCMULLEN, ALPHA MALES EXPERIMENT gives us a unique point of view, a timely message, and a lot of heart. ALPHA MALES EXPERIMENT provokes questions about what modern couples want versus what they need, and how their needs may not have evolved much from those of our caveman ancestors.
The Credits:
Alex Ranarivelo is the director and writer of ALPHA MALES EXPERIMENT. His other credits include BORN TO RACE, and BORN TO RACE: FAST TRACK.
Ross McCall heads a dynamic ensemble cast in the lead role of Ethan. Ross's extensive credits include the HBO miniseries BAND OF BROTHERS and the Starz TV series CRASH.
Paul J. Alessi produced the film and plays Ethan's sexist brother, Kyle. Paul's acting credits include BORN TO RACE and TEN 'TIL NOON.
Amie Barsky is a co-producer on the film and stars as Ethan's good friend, Patricia. Her credits include MISS NOBODY and AUSTIN POWERS: GOLDMEMBER.
Danielle Nicolet plays the feisty Renee. Her long resume includes 3rd THE STARTER WIFE, HEARTLAND, and 3rd ROCK FROM THE SUN.
Katrina Law plays Jenna, Ethan's love interest. Katrina stars in the series SPARTACUS.
And Omar Gooding stars as Ethan's best friend Russell. Omar's list of credits includes BABY BOY, and the HBO series DEADWOOD.
The Original Soundtrack

ALPHA MALES EXPERIMENT original soundtrack features a musical score by Grammy Nominee Austin Wintory, whose credits include CAPTAIN ABU RAED and GRACE. A dynamic ORIGINAL SOUNDTRACK accompanies the score, featuring tracks by Jennifer Love-Hewitt, Sophie B. Hawkins and Keaton Simons. The Original Soundtrack can be found on iTunes, Amazon, Google Play and many others.
You can get both the DVD and Original Soundtrack at various locations listed on the official website at http://www.AlphaMalesMovie.com.
Follow the official movie on Twitter and Facebook.