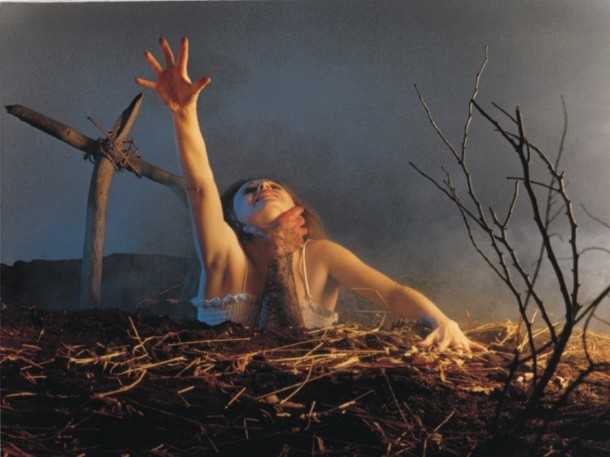 A while back we reported on Diablo Cody joining the Evil Dead remake, and now that production is about to begin we can expect more news to seep out. The latest comes from Bloody Disgusting, and the news concerns the film's main character.
Instead of Ash the remake will involve Mia, a recovering addict that goes into the woods with several friends after a recent relapse. BD gives us an exclusive synopsis:
In this version, the story centers on five friends (David, Natalie, Eric, Olivia, and Mia) holed up at a remote cabin where they discover a Book of the Dead with a demonic force unleashed possessing each until only one is left to fight for survival. As we also exclusively reported, there is a drug subplot.

David is a mechanic and is engaged to Natalie. Mia is the friend who is heading to the cabin to detox; Olivia is her best friend/nurse. Eric, presumably, is the kid who unleashes the demons.

After a recent overdose, Mia struggles with her new-found sobriety. She begins acting insane, so it comes as no surprise that nobody believes her crazy claims of coyote dogs and trees attacking her!
The folks at BD also report that Lily Collins (The Blind Side, Priest, and the upcoming Mirror Mirror) has landed the lead role of Mia. The project is coming together nicely, and I'm honestly pretty interested to see how this remake turns out.
The Evil Dead hits theater April 12, 2013.