With a previously announced release date of December 25, 2013, the latest film featuring Tom Clancy's Jack Ryan character has had little information released on it. However, it has now been reported that a trailer has been shown to test audiences, offering with it, a new title: Jack Ryan: Shadow One.
The film stars a talented cast that includes Chris Pine as Jack Ryan (Star Trek, Star Trek Into Darkness), director Kenneth Branagh as Viktor Cherevin (My Week with Marilyn, Henry V), Keira Knightley as Cathy Ryan (Pirates of the Caribbean series, Pride and Prejudice), Kevin Costner as William Harper (Dances with Wolves, JFK), with David Paymer and Santino Fontana in supporting roles.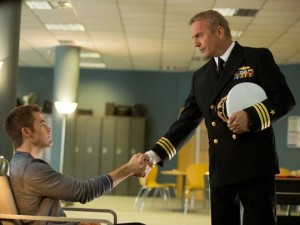 This isn't the first time that the Jack Ryan character has been portrayed on film. Chris Pine is the fourth actor to portray him, following Alec Baldwin in The Hunt for Red October, Harrison Ford in Patriot Games and Clear and Present Danger and Ben Affleck in The Sum of All Fears.
Tom Clancy has become a name featured on more than just novels, with films and video games being released in his name, his legacy of thrills still continues today, with the Jack Ryan character still featuring in his latest 2012 novel, Threat Vector, with a new novel to be released this year entitled, Command Authority.
Images via Collider.