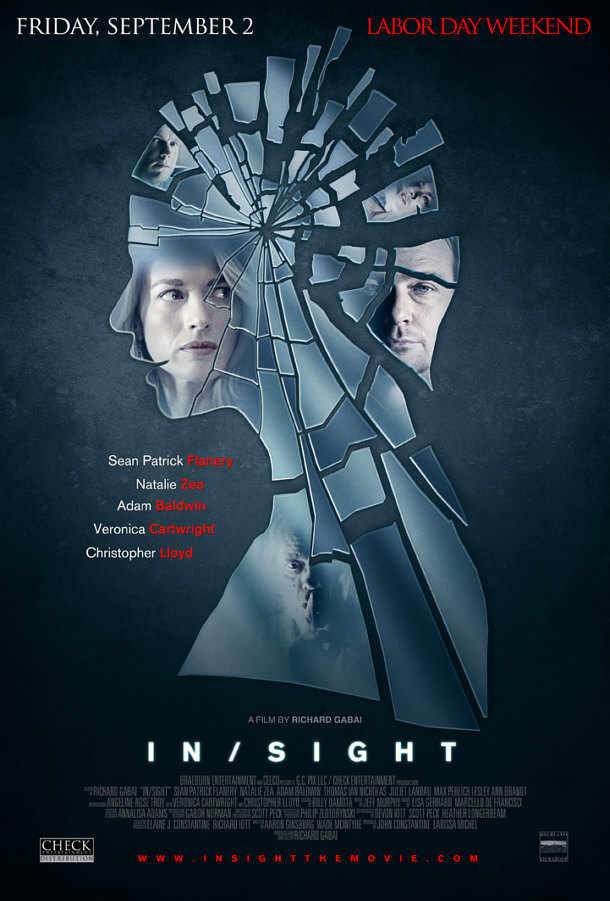 Actor Sean Patrick Flanery (Powder, Saw) joins a talented cast that includes Natalie Zea (Justified, Californication) Adam Baldwin (Chuck, Independence Day, Full Metal Jacket) Christopher Lloyd (Back to the Future, Taxi, Star Trek, Aadams Family) Thomas Ian Nicholas (American Pie, Rookie of the Year) Max Perlich (Blow, Cliffhanger) Juliet Landau (Ed Wood, Buffy the Vampire Slayer) and Veronica Cartwright (Invasion of the Body Snatchers, Alien, Witches of Eastwick, The Birds.) and Angeline-Rose Troy (as Allison Parkes) in this psychological murder mystery thriller movie named INSIGHT. Sean plays the role of Detective Peter Rafferty. Yeah, that means Sean is on the other side of the law than his former BDS role. What does he use his detecting skills for? Read the movie synopsis and find out:
Who Killed Allison Parkes? Find out when Director Richard Gabai's "InSight" hits theaters on September 2nd.

Shot in the seedy Boyle Heights district in Los Angeles, InSight follows Kaitlyn (Natalie Zea), an ER nurse who while tending to a young stabbing victim, Allison, is accidentally electrocuted by the defibrillator that was being used to save the woman's life. Almost immediately she starts to experience the victim's memories. Kaitlyn turns to family, friends, and the police, but no one takes her seriously, so she takes it upon herself to solve the crime – as the terrifying visions threaten her sanity. Ultimately, Kaitlyn teams up with detective Peter Rafferty (Sean Patrick Flanery) and weaves her way through the victim's past in an attempt to discover the brutal truth about the murder and herself.
What's neat about this movie going to theaters is that you can actually request for your local theater manager to carry it. Just go in and tell them about the movie and ask them to look into showing it at your local theater. They have to check with their booking people to see how they can show this film. The more people that ask for it in your area, the more likely your theater will be able to get to show it. Heck, why not just have an INSIGHT party!
Check the list of theaters that are currently going to show INSIGHT on Sept. 2.. http://www.facebook.com/event.php?eid=134429686644880 and share the event with friends.
Want a peek at the INSIGHT movie? Take a gander at the official trailer below..
Whew… right?!?! You HAVE to find out what happened.. figure out the clues and find out who the murderer is! See, that's why it'll be fun bringing your friends to your local theater to watch it with you. Take turns figuring out who the bad guy is. While you are at it, you can take some guesses and leave your comments on the official movie's Facebook wall here.. http://www.facebook.com/InSightthemovie. Matter of fact, if you do go to the theater… take some photos out front and post them up to share with everyone on that Facebook wall. Makes it more fun to know who is doing the sleuthing at your local theater's INSIGHT movie sit-in. Don't Facebook? How about Twitter.. you can post and refer to the movie here: http://www.facebook.com/InSightthemovie
Let's watch some fun BEHIND THE SCENES stuff, eh? See below…
Now some still photos and the official poster…  CLICK THE IMAGES FOR A LARGER SIZE..

One last nugget… want to hear Sean Patrick Flanery talk about INSIGHT? He mentions it in his online radio interview he did recently:


Official site: http://www.insightthemovie.com
Facebook page to "Like": http://www.facebook.com/InSightthemovie
Twitter page: http://twitter.com/insightmovie

InSight is the first release for Check Entertainment Distribution, a new company founded by and for Independent Filmmakers. Independent films have been squeezed off of the big screen for too long and CED has a plan to change all that.

Braeburn Entertainment and Celco present a Check Entertainment/G.C. Pix LLC Production. Directed by Richard Gabai, Written By Aaron Ginsburg and Wade McIntyre; Produced by John Constantine, Larissa Michel, Richard Gabai, Executive Producers Elaine J Constantine, Richard Iott; Co-Producers Scott Peck, Devon Iott, Heather Longerbeam; Editor Jeff Murphy; Director of Photography Scott Peck; Production Designer Gabor Norman.