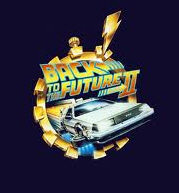 Frank Marshall, producer of Raiders of the Lost Ark, Poltergeist, and Back to the Future, caused a bit of a stir earlier this evening when he tweeted:
"Something big is coming soon. Can't say anything yet. No one should know too much about their own destiny #BTTF"
This is of course a reference to Back to the Future, and nerds like myself went crazy with speculation. The trilogy hit BluRay last fall, so what could this mean? A theatrical re-release? A sequel? A remake?
Thankfully, the answer is a heck of a lot cooler. Devin Faraci over at BadassDigest got a tip from some sneaker bloggers* out there who confirmed that they were invited to a super secret Nike presentation tomorrow. And the invite came in the form of a certain famous visor:

Why would a sneaker presentation use Back to the Future iconography? Well, maybe it has something to do with this video that just made it to YouTube:
Yep. Ladies and gentleman, the Nike Mags from Back to the Future 2, those awesome sneakers that lace themselves, have become a reality.
Now all we need is for them to finally release the hoverboard.
*Geeze, I'm having a hard enough time explaining what an entertainment blogger is to people. Imagine the blank stares those guys get?