E. Roger Mitchell has been working in film and television for over sixteen years, however it was in his youth on a school stage where he first discovered his love and passion for acting. This holiday season finds E. in two of the most highly anticipated sequels The Hunger Games: Catching Fire and Anchorman 2: The Legend Continues. We caught up with E. to discuss acting, character work, his upcoming projects, and the challenges of bringing literary characters to life on the big screen.
MV: Welcome to Movie Vine, E. To begin let's discuss Anchorman 2: The Legend Continues which opens on Wednesday. What can you tell us about your experience working on a film set which encourages improvisation?
E: Wow! It was a master class watching Will Ferrell work. Both he and Adam McKay are simply genius. The way they fuel the improv collectively is something to behold. You almost sense that they are so in tuned with one another that they almost complete each other's sentences. It's a technique they have worked many years together to perfect and crystallize. It was an honor to spend that time with them.
MV: In comedy, actors have to rely on the director to reel them back in if they step out too far. Did the cast push each other even further than the direction when it came to getting laughs?
E: There are NO BOUNDARIES capable of restraining the comic genius of that superb cast and director! Ha! They are boundless!!! They push all buttons . . . and they create new ones to push!
MV: I can only imagine. Let's talk about The Hunger Games: Catching Fire. It's exciting to see how well the film has been embraced by fans. How would you describe the second installment of The Hunger Games trilogy?
E: Well, it's bigger and better because the stakes are so much higher! The winners (Tributes) have to "come out of retirement". Kinda sucks . . . but President Snow is persistent and will use any means to destroy Katniss. All are expendable at this point.
MV: What were some of the challenges you faced in bringing Chaff off the page and making him your own even though fans of the books have a very definitive view of this character?
E: Since I am a fan of the books I had an immediate insight on the character of Chaff. I typically use "sense memory" when preparing for a role . . . meaning I substitute, if possible, my own experiences in life that parallel with the character I am portraying. I could think of several scenarios that coincided with the character of Chaff. I incorporated those along with what was on the page to bring color and life to this wonderful character; Chaff.
MV: Chaff lost his hand when he was a tribute decades ago yet he refuses to wear a prosthetic even as he competes in the third Quarter Quell. As a tribute every decision counts even his refusal. As a mentor, where is the line drawn between friendship, competition, and fight for life?
E: Chaff comes into this Quarter Quell at a disadvantage . . . somewhat. Since Chaff is not alone in opposing the Games he literally manifests his disdain by not utilizing a prosthetic, which in essence only amplifies the barbaric act of the entire Hunger Games. Not only are women, children, and the elderly susceptible but so are the handicapped. No one is safe. The shared goal for Chaff, Seeder, Haymitch, Plutarch, Finnick, and Johanna is to get Peeta and Katniss through this ALIVE. Anyone standing in the way of this is expendable.
MV: Haymitch and Chaff have become close friends both being a bit rowdy and unpredictable. Do you think those character attributes helped them win their past games versus sticking with the rules?
E: Oh I'd answer yes. Both Haymitch and Chaff are the rowdy duo. I know their brass tacks style served them well in the Games. Playing by the rules is not an option when it's a life and death situation. The stakes being that high call for unorthodox maneuvering!
MV: When you are first discovering a character how do you go about researching the role?
E: It's always according to the character in which I proceed with my research. I read, research literally, and as I mentioned sense memory is always a technique I utilize in every role I encounter. It's a combination of those things.
MV: Would you mind sharing how you became involved in acting and the path which took you to CUNY Brooklyn for your Masters degree?
E: I remember doing shows as far back as the 1st grade. It was an African Heritage theme . . . I can still see us little kids learning the dance routine. Ha! The 2nd Grade was the Mother Goose show, 3rd Grade was the Halloween theme, 4th a Grade Thanksgiving, and 5th Grade Christmas . . . I say this to say I have always had the "bug". So to further my education, and to study my craft, was the natural evolution. After my BA and internship I wanted my MFA. Plus I just had to be in New York!!! It was the "right of passage."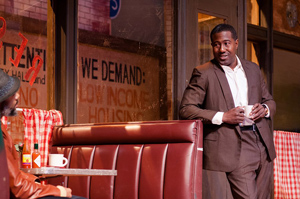 MV: For young actors planning to pursue a career on stage or in film what techniques would you recommend they work on in order to have a solid foundation?
E: Techniques in particular are secondary in my opinion. The most important characteristics to embody are: work ethic and attitude. Because your attitude and work ethic will take you much further than talent alone.

MV: Very true and wise advice. You have a lot of projects coming out over the next few months. You play a detective in Need for Speed. Can we expect to see you in any car chases?
E: Hmm . . . (winks)
MV: (laughs) Ok, so we'll have to wait and see. What would be your dream getaway car?
E: I'd like to say the Porsche Panamera Turbo! Ohhh yea!!!
MV: Nice! You also play a detective in Kill the Messenger which is based on the true story of journalist Gary Webb whose life unraveled after exposing damaging accusations against the CIA. What are some of the differences working on a film that is rooted in a brutal reality versus one created strictly for entertainment?
E: For me . . . truth is created through belief, conviction, and commitment in the set of circumstances in which I am allowed to create as the actor. Both mediums of which you question are grounded in truth to me. There is no difference, in my opinion.
MV: You have been so busy working on films and in television, has that left you much time for doing theatre?
E: I know, right. I was on the stage early this year in: Kenny Leon's True Colors Theatre Company in August Wilson's Two Trains Running. Directed by the fabulous LaTanya Jackson! Cast members: Michael Beasley, Enoch King, Basil Wallace, Jahi Kearse, Ellis "Skeeter" Williams, and the exceptional, Pauletta Washington. It's been a roller coaster since that time. A great ride, however.
MV: What other projects do you have in the works?
E: Hmm? I am always working on the "next" project. You've pretty much covered what is in the "can" for me. However, I am working on my Producer ambitions also. I have a couple of projects in the grass-root stages though.
MV: I loved your character Paul in The Walking Dead. Would you mind sharing how he actually came into existence on the show?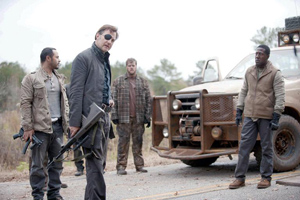 E: Paul, among many others was a survivor of the Woodbury community. He seemingly is based on Paul Monroe, more commonly known as "Jesus", a character first encountered in Issue 91 of Image Comics' The Walking Dead and is a survivor and resident who lived in a community called the Hilltop Colony which held almost two hundred other survivors. Paul now resides in the Alexandria Safe-Zone.
MV: What are some things that pleasantly surprised you while attending the Walkers Stalker convention in Atlanta?
E: Walker Stalker (Walking Dead) blew me away! I was so surprised and equally pleased to be embraced by the fans. It always amazes me how many people remember me. I am the BIGGEST Walking Dead fan ever! So to be a part of the show was, and still is, a true honor.
MV: Your films The Hunger Games: Catching Fire and The Watsons Go to Birmingham were both adapted from books which are popular with the youth of today. Which book from our generation would you like to see make it to the big screen?
E: Good question. Well I'd like to see The Alchemist come to the big screen. I don't know if it would be considered OUR generation, but I just would love to see it done.
MV: Last question, is there a particular character from literature you would like to portray one day either in film or on stage?
E: I'd like to portray Godfrey Cambridge. His contemporaries were: Bill Cosby, Dick Gregory, and Nipsey Russell.
MV: Thank you so much for hanging out with Movie Vine, E. We can't wait to see you in all of your upcoming projects. May the odds be ever in your favor!
E: Super thanks for allowing me to chime in. It's been an honor. See you ALL at the Games.
*Be sure to follow E. on his official Twitter and Facebook pages. The Hunger Games: Catching Fire is currently in theaters. Anchorman 2: The Legend Continues opens nationwide on Wednesday (12/18).