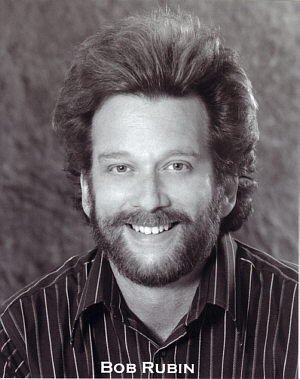 A comedian with a heart of pure gold. Even with his own struggles, Bob Rubin can bring a smile to your face in moments. An actor as well, he takes audiences for a ride with each performance, whether it be on stage or in film. His character is of the highest moral regard and he continues with his warmth even today.
Kale Slade: Being very funny and inspiring to me personally, who in your life has inspired you?
Bob Rubin: My first inspiration was the doctor who first spanked my ass and said, "Welcome". I cried, but it's been a great ride so far. After that, I'd say Monty Python, Steve Martin and my dad. He was a funny guy.
Kale Slade: What first drove you to become a comedian?
Bob Rubin: A '67 Buick Le Sabre. Tommy Hoffman gave it to me for free and it later caught on fire. Actually, I've always wanted to be a comic. I don't ever remember wanting to do, or be, anything else. I'm real lucky in that sense. I never had to figure out what I wanted to do with my life. The rest of the world confuses the hell out of me, though.
Kale Slade: How often do you get to share stories and connect with your fans?
Bob Rubin: Not often enough, that's for sure. I throw regular wiener roasts, but no one knows where I live, so I end up by myself, up to my ankles in relish, muttering, "What the hell?" But, I really do enjoy sharing stories and laughs with anyone who will listen. The best way to do that now, of course, is on the Internet. I'm old school, but I'm going to work at bringing my Internet presence up to speed.
Kale Slade: If there was anything you'd change about your life, what would it be?
Bob Rubin: My ability to move objects with my mind. Right now, I can only move, well, none. There are no objects I can move with my mind. Oh, and I wouldn't spend nine years in prison for a crime I didn't commit. So, yeah, ability to move objects with my mind and better lawyers.
Kale Slade: Do you prefer to work your magic on stage or in film?
Bob Rubin: I prefer to work my magic in gang controlled crack houses. It's easier to get away with slight-of-hand because your audience is so high. Just kidding, folks. I love being on stage the best, but being in movies is obviously good for your career and they can help you play to a wider audience in the stand-up world. Stand-up makes you feel the most free, just you, your audience, and it's instant. But, being in OTB and BDS ll was such a blast, I'd love to be in a million movies if it was with those guys. Jeff Santo and Troy are great film makers and we have a lot of fun together. And that will always be the bottom line…..having FUN (and money for next month's rent. the gas has already been shut off, but who needs stove-top cooking when you have a George Foreman?)
Bob Rubin is in a new documentary called Off The Boulevard: http://www.offtheboulevard.com plus get updates and more info at Bob's official website at http://www.rubetime.com