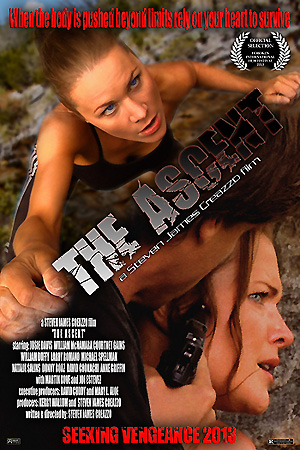 I got the opportunity to interview Steven James Creazzo (writer/director/producer), about his movie, The Ascent. The movie was filmed in Austin, Texas.
Q: Without giving away too much, what is The Ascent about?
A: Josie Davis stars as Emily Wilks, a mountain guide forced to lead a group of treasure hunters up the perilous, Devil's Peak. To protect her friend's life, Emily agrees to lead the group to a buried treasure. But appeasing them is just a stalling tactic until Emily reveals her own dark secret.
Q: What was your inspiration to create this movie?
A: My parents own property in the Catskill Mountains, and I actually had two motivations. One being my brother, an avid climber himself, and two, I wanted a movie that was really set in the mountains, with a strong female lead. A contributing factor came from a ghost story that his brother had told him about. He combined the concepts and came up with what was, at first, going to be titled The Devils Thumb.
Q: The cinematography was impressive given the terrain with which you were working on. What were some challenges you faced in making the movie?
A: Although we did have a full budget, making this movie was "ambitious" even for what money we had. So cinematography was vital. The amount of cameras and their placement was crucial. The majority of the shots, were done with a Steadicam, and were long single takes. A major challenge was the fact that there was not a lot of rehearsal time. Also, there were conversations and limits to the amount of blood, and gore we wanted.
Q: What did you want to be the stand out aspect of this movie?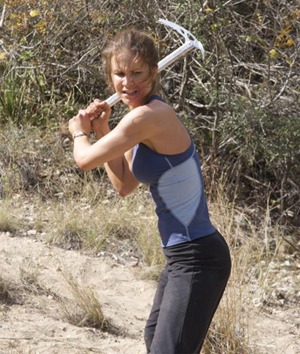 A: There were not a lot of singles in this movie. I wanted to give The Ascent a cinematic look – not a TV look. As few over-over, and two-shots as possible was the motto. I wanted constant movement with the cameras, in order to maximize every angle and action.
Q: What do you want us to know about the cast?
The Ascent is character driven, not plot driven. Josie Davis shows a very clear, confident and very strong presence in her character as Emily. She is a strong woman who keeps you in suspense as to who is in charge. She was the #1 choice for that role, and upon reading the script, she just "got it". She took it upon herself to achieve her own fitness expectations for the role. All of the actors and actresses did a great job in my opinion. They are all seasoned and talented.
Q: Do you have any other projects on the horizon?
A: Yes, actually since The Ascent made it into the Hoboken Film Festival, there may be a sequel. The working title is 'Revenge at Devils Peak,' which will bring Emily Wilks back to Devil's Peak, and bring back, in larger roles, some of our supporting characters as well – Lewis and his daughter, Natalie, played by Martin Kove and Anne Griffin. And we hope to film in the Catskills. in NY. Also, My Little Demon is out. I also have a new project, The Killing Time, pre-production, which we are planning to crowd-fund, through Indiegogo or Kickstarter. The hope is to film in the Catskills as well, in a town that was devastated by hurricane Irene. Hopefully that will bring business back to that area and help the economy there.
"THE ASCENT" is nominated for Best Trailer!!! VOTE NOW!!!
The N
ew York Post/Hoboken International Film Festival
Please check out our website – www.dreamalityentertainment.biz
Please 'follow us' on Twitter – https://twitter.com/StevenJamesC
By Jamie Leigh