Actress/Producer Jennifer Blanc-Biehn from New York has a number of films coming out this year.  The first film to come out is "The Divide" starring Jennifer along side Michael Biehn, Milo Ventimiglia, Lauren German and Rosanna Arquette directed by Xavier Gens. The next film to be released is "The Victim" which is one of her top priority movies. Jennifer has duel roles in this film one as star and as producer along side her husband Michael Biehn (Terminator, Aliens, Grind house), who also stars and is director.  It also features Danielle Harris and Alyssa Lobit. The third film yet to hit the screen is "Among Friends" which Jennifer is producer along with her good friend and director Danielle Harris and writer Alyssa Lobit.
Rachael: Hi Jennifer I wanted to start by talking about the movie you have coming out "The Victim" which features you not only in front of the camera but for the first time behind the camera as producer. Your husband  (Michael) was director. Can you tell me about it?
Jennifer: Well, "The Victim" is our baby project from our production company, which we are all very excited about.  This movie was a 12-day shoot and it's a meant to be a fun, grind house, exploitation type movie done on a low budget. We hope to make a sequel to it.   So far reactions have been good, we have been getting great reviews and we are grateful. We love watching with the audience and seeing them have fun and tearing up at certain parts. It shows us that people are getting the film. Being the producer, I actually really like having my hands in all areas of the project. I am fine with being in front of the camera and just showing up do my job, but there is also something really amazing about the process through the shoot from beginning to end. I am learning a lot and enjoying the experience.
Rachael:  Danielle Harris is also in this movie and has directed another movie under your production company, how was working with her as I know you two are close friends as well?
Jennifer: Danielle is awesome! Far as working with Danielle on "The Victim", she was a pro she came in every day did her stuff she brought tons of ideas. She knows what she is doing because she has been doing this for a long time. I think you can see our relations on camera. She plays a different kind of character it's a sweet character (not that she doesn't play sweet characters) but it's a different kind in the "The Victim" that she normally doesn't play.
Rachael: Then you both worked together again in 'Among Friends"
Jennifer: She directed and I produced, we were in the trenches together for the 10-day shoot.  I think it s a wonderful thing to work with your friends and she has been around for a while, she has been acting since she was a little girl. I was too but more on Broadway, We both feel a comradery for each other because we both have been doing this a long time and I feel safe doing this with a friend.
Rachael: How has the transition from TV to Feature Films been? Did/Do you find the transition difficult
Jennifer: No, I find TV movies and film to be very similar now. Back when I did a lot of TV movies/shorts the schedules were insane; they are quick you had to be on point with not many retakes. Where with films you had more time to prepare.  Now feature films are on the same quick shooting schedule, so I find them to be similar. I enjoy doing both just as much. I actually really enjoy doing the drama type TV movies more than sitcoms now. But I did a sitcom for 2 years and got a lot of pleasure out of it.  But sitcoms are also very different because they are over the top and use a live audience.
Rachael: You have been traveling a lot this year, hitting a lot of conventions to endorse these films, how is that going?
Jennifer: We have been doing a mixture of conventions. In the past, I did a lot of SyFy conventions because of being on Dark Angel.  But now, due to films like "The Divide" & "Among Friends" it seems to sit with the horror genre more. We go to these shows partially to promote the films and ourselves. Also, Michael and Danielle get to promote their directorial début and we all get to travel together which is great. It's a lot of fun at these shows because these are the people you want to get to see your films first.  And these fans will get behind you and put the word out about the movies. We like making it accessible to the fans; they are part of the process of making the film real to other audiences. It's really great to meet the fans that appreciate what you're doing.  We have had all positive experiences so far at these shows.
Rachael: So since you mentioned you attend horror conventions, are you a fan of horror movies?
Jennifer: I am! I just watched a Korean horror movie. We are trying to figure out the next project to do that Michael can direct. And we have been looking at all these Korean horror movies. The latest one I just watched was "Look I See the Devil". You can get it on Netflix streaming. We have been watching a lot of them.
Rachael: So then what is your favorite horror movie?
Jennifer: Halloween the 1st Rob zombie movie was great. I am truly a fan of horror movies, ghost stories, and psychological movies. The movie "The Others" was freaking scary to me. It really scared me a lot especially the twist at the end, which freaked me out the most.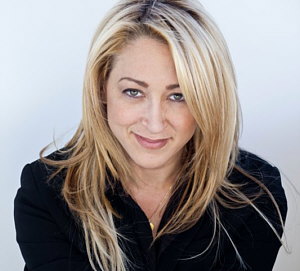 Rachael:  So what current projects are you promoting right now?
Jennifer: Currently, "The Victim" is a huge priority. We even have an overseas sales rep named "WTF" and yes its (what the F*@!) based in Paris really doing an awesome job spreading the word about film.  WTF and us are going to do a lot of cool college runs of the movie, which is going to be a form of a theatrical release but at college campuses and some small venues too. Also, Michael wants to do a downtown LA film festival for "The Victim", so we may do that and also put something together for charity.
The other movie we are promoting is "The Divide" which is going through the roof. Michael's performance is phenomenal, he is so incredibly talented and
I get the opportunity to play Michael's wife in it. I feel really lucky to be a part of anything Director Xavier Gens has done because he so incredibly talented. Hopefully, Michael and me will be in the next film he does.
Rachael: So now that we talked business, I'd like to ask some off-topic questions.  Like, what do you in your spare time? Do you have any tattoos? Any pets?
Jennifer: Ok, I can tell you in my spare time when I am not filming, I am usually on the computer, taking top physics classes, or taking pole dancing classes again. I love spending time with my honey watching tons of movies, going out with my friends and my #1 thing on my to do list is karaoke with friends.
Ok, you asked about tattoos, well I have 13 tats spread all over my body from head to toe. None have Michael's name though. I have a thing for stars so I have a lot of them.
And, as for pets I had a cat for 16 years who was a rescue named 'Tina" – she was pure awesome. She didn't listen to Michael much but she was a great cat. Ha-ha
Rachael: Tell me the name of your production company so fans can check it out.
Jennifer: It's Jennifer Blanc-Biehn Production. You can find us online at http://www.JenniferBlancBiehn.com but Michael wants to change it to Biehn-Blanc production but I said no, the lady goes first.
Rachael: Ok can you tell me how your fans can chat with you or see you production company, etc.?
Jennifer:  ok well –
My face book, which I am on a lot is http://facebook.com/blancbiehn
Michael is on face book too at http://facebook.com/michael.biehn
My twitter is: @jenniferblancnb
Also, people can email Michael and me at our production company: blancbiehnprodcutions@gmail.com
Rachael: Any more appearances your fans can catch you and Michael at?
Jennifer:  We just did a show in Dublin for a horror-a-thon to promote "The Divide" and there was a 25year Anniversary screening of Aliens for Michael.
Next we will be at the Austin Comic Con Nov 10-12
Rachael: Thanks, Jennifer!
Jennifer: No problem it was my pleasure
"The Victim" is a psychological thriller about a woman who witnesses a horrific rape and murder, she runs from two attackers and hides at Kyle's (Michael Biehn) home in the woods. This story makes you question your trust in mankind ~ Staring Michael Biehn, Jennifer Blanc-Biehn and Danielle Harris.
If fans want to check out the trailer for "The Victim", they can go http://www.grindhousethevictim.com
Writers Opinion – After speaking with Jennifer I can truly say, she was a pure pleasure to speak with. She was honest, up front and answered all my questions without hesitation, you don't see that much in many celebrities. Everyone really needs to check out these trailers for "The Victim" and "The Divides" both on her IMDB page and like them on Face Book.  Jennifer and Michael are really great in it and fans won't be disappointed. I also like that they try to stay close to their fans through Face Book and Twitter. Just so people know it's really them on there.
By Rachael Tedeschi