Zombie with a Shotgun is an independently filmed web series and future feature film that was written, directed, and produced by Hilton Ariel Ruiz. The co-producers of the film are Kirk Goodall and Ian Griffith. Zombie with a Shotgun is a story about a guy and his girlfriend who are on the run trying to survive a zombie out-break. Aaron (Braeden Baade) is infected by a strange virus that is slowly turning him into a zombie. His girlfriend Rachel (Lynnea Molone), is by his side no matter what, whether he changes into a zombie or not.
I was hooked when I watched the first episode, so I asked creator Hilton Ariel Ruiz if I could write something about his film or do an interview with him. He agreed and so on with the interview..
Michelle: Tell us more about the film without giving too much detail?
Hilton: Zombie with a Shotgun is a love story where the lead, Aaron, is a zombie in the beginning stages of his transition.  As we follow the series we see the transition progress as Aaron and his girlfriend Rachel are on the run. As the story develops they find that there are more people than Aaron who are infected. We watch Aaron and Rachel struggle with not knowing what can happen next. They just know that whatever happens they will both be there for each other.
Michelle: How did you come up with the idea for the story?
Hilton: Being a big fan of horror films and of course the zombie genre, I wanted to give my interpretation of a zombie story. I wanted my lead actor to be a zombie who takes us into his world. Since there were so many zombie projects being created, I wanted to have a title that would attract the attention of the zombie loving audience, therefore I decided to come up with Zombie with a Shotgun.
Michelle: Was it difficult filming the web episodes? Was it hard finding actors to play the parts?
Hilton: Some of the scenes were difficult. But I had a good cast and crew who have the same passion as myself and mutually believe in the project. It was very important as things can get done more smoothly.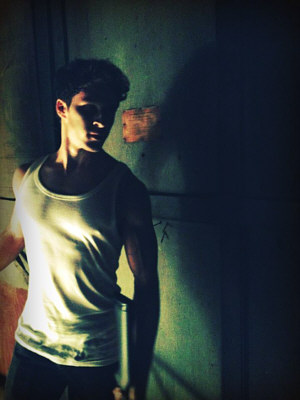 Actors are very important in every project. I took my time to find an actor with the right look and chose Braeden Baade to be the lead. Braeden and I worked on a short film called 6-6-66. Once that project was complete, I realized Braeden and I worked well together and felt he would be a good fit for the lead in Zombie with a Shotgun.  The chemistry we shared while working is what helped make the decision.  With Braeden on board, I brought in Lynnea Molone because they seemed to match.
Michelle: How many episodes are there?
Hilton: There are three episodes at this time.
Michelle: What are your goals after the eight episodes are done?
Hilton: After the eighth episode I would like to use the web series as a vehicle to get funding for a full length feature film of Zombie with a Shotgun.
Michelle: When will we see the fourth episode?
Hilton: June 10th is the release date.
Michelle: Thank you for taking the time to answer my questions.
Hilton: Thank you!
You can watch the Zombie with a Shotgun episodes here. More information and social links can be found through the official website here.
By Michelle Hassenstab