Roy Samuelson is the man behind the mic whose voice can be heard on countless radio and television advertisements. He has shared the stage, screen, and microphone with some of Hollywood's brightest shining stars. We caught up with Roy to discuss the secret for breaking into one of the best kept industry secrets – voice over.
MV: You are a true renaissance man, Roy. With over twenty years experience as an actor and a voice over actor you have found the trick in creating a career doing what you love. You act, coach, lecture, cast projects, and work post production. What is the secret to your success?
RS: Wow, thanks, as I blush and shake my head. I am very grateful for the opportunities that have luckily come my way. The secret to success for me is a clear definition of what success means to me – which I believe is really different for each person! It's not based on "beating someone out of a job" (while I do compete; it is competing against myself to do better. Like beating my last score in golf). It's also not based on a certain amount of financial income (income is its own focus).
Success for me is falling asleep at night knowing I've done all I could for my career today in a way that helped the people I work with. There are a few parts that make up my definition of that kind of success: flexibility, long-term perspectives, and authentic relationships. I have a few other secrets, too, like a secret list of things I can do that help me refocus on what's important.
Plus, I am lucky to have found some great mentors in my life. I happen to be writing this in my friend's cabin in the mountains. He's a mentor of mine, with a credit list a mile long. I asked him this question to see his take. He said "The secret of my success? Well, it's 'willpower.' Willpower is usually associated with the strength to avoid something bad – the willpower to overcome a temptation. But what if it's really about going for something good? My secret to success is making a conscious decision to move towards the goals with commitment." I gave him a look of dumbfounded respect, and he said, "No charge," and just walked off to get a tea, leaving me with a laptop and flames flickering inside a wood burning stove.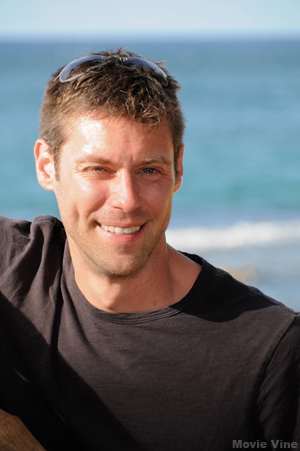 MV: That's really great insight! What advice would you give to those outside of L.A. but who are also interested in pursuing a career in voice over work?
A career in any field takes time, and just because it is something that is enjoyable doesn't mean it's a fast track to instant income success. In the book "Outliers," Malcolm Gladwell shares that it takes 10,000 hours to be an expert in any field (if I am quoting him correctly) so that works out to be about 20 hours a week for 10 years, give or take. That kind of commitment gives enough experience to get any career started.
If there is no choice but voice over work, I'd suggest doing research locally to see if there are other people in the area who also have similar interests. Listen to professional voice over demos. What are working professionals doing? Take improv classes, connect with radio or tv station people and do an informational interview, and explore some online classes. A great place to start looking is on Bob Bergen's site (http://bobbergen.com). The voice over resource guide (http://www.voiceoverresourceguide.com/) has some large metro area opportunities. I know a few people who offer online classes (http://someaudioguy.blogspot.com/). There are some coaches that use Skype, so all you need is a microphone on a computer, a free Skype program, and an internet connection (plus a credit card to pay the coach, of course). There really are no limits to access top coaches and directors in the field – so studying and practicing with the best is strongly recommended.
So to sum up – give it 10 years, study and practice with the best. I think most careers work this way – this one is just not as easily charted with step by step actions – but I'd venture a guess that all working professionals will say "practice."
MV: Would you recommend that voice over actors invest in their own in-home recording studio?
RS: If they are working, it's great to have a home studio setup, for last minute auditions, or if the quality is great, being able to send audio directly to clients. I have my own studio, but renting a studio has many advantages – it's another person who can give a different perspective or feedback, plus allows you to focus on what you are doing. So yes, if you are working and auditioning, invest, but also remember that that isn't the only source to use.
MV: What would the basic starter kit include?
RS: The recipe is: start with a specific budget. Add a heaping of Patience. Tweak settings endlessly. Add elements if you need them. There is no perfect microphone (A pro golfer has just one club? Nope. Boy do I like golf analogies). I know some people use a mic plugged into their iPhone in their car for last minute auditions; I know some people have a laptop and a usb mic; I know some whisper rooms that are over ten thousand dollars with a daisy chain of pre-amps, running proTools — If this is just for practice, I suggest starting with essentials, and let it grow and evolve. Just start exploring by talking to others, researching online, and see what you have around you to work with now. Most laptops have their own microphone and built-in recording software. This probably isn't suited for auditions! But you gotta practice hearing your voice. (There's that word "practice" — did you see it?)
MV: Do you have any tips on time management when dealing with multiple projects or clients?
RS: Oh this is a good one. Yes, I do have tips: I have learned millions of things that don't work. Again, everyone is different, but I use a combination of "43 folders" (http://wiki.43folders.com/) and a very elaborate to do list that syncs with my computer, and a few other electronic devices. I keep track of completed jobs, completed jobs awaiting payment with alerts after 5 or 6 weeks, relationships I'm looking to develop with existing clients, and other self-maintenance. I still have broken links on a website from 3 years ago; this is a work in progress for me.
MV: One of the most popular voice acting gigs these days seems to be book narration. How is that different than working on a radio, television, or film project?
RS: I have many friends who have voiced audio books and love it! Audiobooks is its own special niche within voice over recording – it takes a special talent and a lot of focus and endurance and energy. I have recorded some commercials that took less than 20 minutes; an audio book will not have that kind of short time span!
MV: You have had many speaking engagements where you discuss the business side of voice over acting. What would your typical lecture include?
RS: I do my best to share my experiences both positive and negative. The negative experiences are never about other people – just situations, or decisions I made, or didn't make, where I feel I blew it. The positive are rarely what people expect them to be – like I said earlier, my definition of success is not grounded in money, but authentic relationships. I am focused on developing my business which does affect my bottom line income positively, but I make it clear that is a very welcomed result, not the focus.
MV: Do you have any tips or tricks in keeping ones voice in shape?
RS: Three valuable tips: practice, practice, practice. I have 4 tricks: Practice, practice, practice and practice. Every coach, director, working actor, casting director, producer, agent, booth director, audio engineer, and audio editor say this. If someone comes to me and says they would like to do voice over, I challenge them to practice for 5 hours over the next week, and get back to me. The people who do are the ones that get this trick. It's simple. Deceivingly so.
MV: Every year you take some time to unplug and just rest. Would you share the importance of taking time off in this fast paced world?
RS: Every year? Yes! And every month, every week when I really need to! Yes, rest is very important. I love what I do so much that it can keep me going to the point of exhaustion. I make time to schedule in rest time. It can be a 20 minute power nap or a few hours to read a great book. Turning off the phone is a challenge, as any phone call can lead to some ongoing work. But constantly being on call can take a toll, and actually counteract some good inertia. Time away also gives perspective. It is inevitable that I have a better perspective when I take the time to get away. It's calculated, and for a specific time.
MV: A little known fact about you is that you enjoy the trapeze. How did you first learn this skill?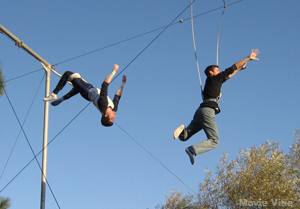 RS: (laughs) Well this skill has been waning – it's been a few years! But I took 3 or 4 classes and was able to do this (click here for video). I had a friend tell me about it and boy did I learn a lot!
MV: At the end of each year you release a year-end review always including one made-up entry. What were a few items from your 2011 list? Let's see if our readers can figure out which one is fake. *Answer will be listed at the end of this interview.
RS: I love keeping track of all the crazy things that happen in LA.
After a McDonalds breakfast, took a selfguided tour of a Japanese garden outside Yokohama on emperor's birthday via train, bus, and walk.
Got flowers from my dentist.
Was recognized as an actor in an Italian restaurant in Bakersfield along with an actor from Falcon Crest.
Saw Burbank, Glendale, Universal City, and Hollywood Hills in an hour, without passing one traffic light.
Deleted "scramble" game because of dyslexic challenges to my job.
Left my dog for 10 minutes with a friend and found them teaching each other to howl.
Had 65 meetings in 2 weeks.
TEDx presenter thanked me for using some of my VO advice from a Instructional CD I sold 3 years ago.
In one day, recorded 7 commercials and 6 tags, with an intermission of a steam bath jacuzzi.
After paddleboarding Malibu, then taking an outdoor shower in the Ventura keys, drove to a wine tasting near Ojai hwy 33 by 6pm.
Spoke on a 2200 member cyber panel.
Hosted a pj party.
Was on a rollercoaster during a 4.3 earthquake.
Got the iPhone 4s.
Traveled for a day but it only looks like an hour.
In less than 2 hours, saw a whale, dolphin, sea turtle, and underwater volcano after securing rock star parking.
Participated in a Puja downtown.
Learned how to tie my shoes on TED.
MV: One last question, do you want to talk about your stint on The Dr. Phil show?
RS: (laughs) In my defense, I was supposed to have seen what was happening on the video monitor. There was a video glitch, so I went out having no idea what I was walking into.
MV: This was fun, Roy! Thank you so much for sharing your secrets to success with us.
To hear more from Roy, just turn on the radio and listen closely. Be sure to 'like' Roy's official FaceBook page at www.facebook.com/roysamuelsonbiz.
*The fake 2011 event was "got an iphone 4s". Did you get it right? I didn't.