Holden Andrews and Victor Mathieu make up two of the three directors (Ivan Asen being the third) on High Octane Pictures' new horror release Dead List. Andrews started making movies at USC, which led to a job with Digital Domain, which he cut his teeth as a commercial director. He teamed with Mathieu – who was hot from his film The Monster Project – and Asen on the weekends to shoot a feature, a unique and fun horror throwback that would become Dead List. Recently, they discussed this project via an exclusive interview.
Meagan Meehan (MM) of Movie Vine: What inspired you both to take up filmmaking?
Holden Andrews (HA): When I understood that through film you could touch people and have an everlasting effect on them I was fixated on how to master the craft that. I wanted nothing more than to be able to entertain others through film.
Victor Mathieu (VM): I used to want to be a musician, then an actor, until I realized it wasn't the stage that I loved, but storytelling. But I must say, because I come from a background of music and sound, I've always loved the aspect of being able to step into a totally different environment, particularly those present in supernatural horror films. I think that's why I loved Evil Dead II so much, I found it both visually and auditorily creative and entertaining.
MM: How did you get your start? Both of you?
HA: I started making short films in Middle School which lead me to apply and ultimately be accepted into an Arts High School (Dreyfoos School of the Arts) and I went on to attend The USC School of Cinematic Arts. From there I began my career at the Oscar award winning Visual Effects company Digital Domain and went on to become a commercial director. Dead List is my first feature film and is a direct result of making an action plan and executing on it. I knew the idea for Dead List (a new take on the horror anthology genre) was great and that partnering with other filmmakers would allow us to accomplish making the film. It's truly been one of the best experiences in my life.
VM: That's a very long story, but in short, my second feature film, The Monster Project (filmed after Dead List but released prior to) was a long process that led to a lot of hype and developed a solid fan base upon its release. But really, there was no 'start', we made Dead List happen together with our own money, filmed during weekends…you can't wait around and hope you get your big break, you have to make it happen. And we knew that, hence why we formed a trio and tackled Dead List together, we wanted to get our careers going and get our first feature made.
MM: Do you remember the first time you got paid to shoot something? Frame that check?
HA: I do, it was a jewelry commercial that I directed right out of USC. I didn't frame that check but hahaha that's a great idea!!! The first check that comes in from Dead List, I will now definitely be framing it.
VM: I never framed that check!! But yes, it was for a commercial for AOL called AOL Zombies, which you can find online. I remember making it for pennies but was rewarded with an award given by Jon Landau (Titanic, Avatar) himself as well as prize money. It was definitely fulfilling and motivating!
MM: What do you usually shoot on, equipment-wise?
HA: That ranges, I have shot on everything from film, digital, and 360 VR rigs. For me, it comes down to the project and what's best for the creative. I grow up shooting on Canon and love the colors that it captures but raw footage from the RED and Alexa can be pushed in so many directions during color correction. Victor Mathieu and I worked on Scary Nights together and we shot that entirely in 360 for VR, it comes out later this year everyone should check it out. It' Goosebumps meets Tales from the Crypt, it's really a lot of fun.
VM: That depends on the style of the project. But my favorite camera would be the Alexa.
MM: If you weren't making movies, what do you think you'd be doing?
HA: Growing up, my mother worked in medicine and I would have gravitated towards studying to become a doctor had I not been so strongly called to filmmaking.
VM: I'd be lead singer and guitarist in a rock band. No doubt!
MM: How did this movie come to you?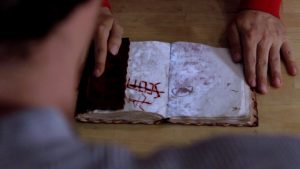 HA: Ivan, Victor, and I are true fans of horror and while I was fleshing out the idea with Ivan we knew that the direction for Dead List was going to be an anthology film. Victor and I knew were friends from USC and I knew he'd be a perfect addition to the team. Together we set out to make a new take on the horror anthology genre. Instead of having multiple chapters that tell different stories we made an anthology film where each chapter continues to tell a singular narrative of the film.
MM: What personally appealed to you about it?
HA: Dead List has something for everyone. It has over five different monsters and each chapter features a different one. No matter your taste when it comes to horror films Dead List will appeal to you. It's a genuinely fun film that everyone will enjoy.
VM: The interweaving storyline present throughout the film is something I had never personally seen before in an anthology-type horror film. I also loved that I was able to come up with two 'short films' per se of my choice with full creative freedom, which ended up being the Witch and Clown segments.
MM: Did you get a big saying in casting?
HA: Yes, Victor, Ivan, and I controlled 100% of the creative process from pre to post-production which obviously covers casting. Victor was a huge contributor in casting since he had worked with many actors, on the hit interactive play Delusion, who end up being wonderful casting choices on Dead List. We of course loved that we were able to cast from our USC network too.
VM: I did, actually. I'd met so many actors working on a multitude of projects, particularly an interactive play called Delusion over the years that I had a very large repertoire of actors. I would say that I ended up casting about 90% of the film. Holden and Ivan found our lead Deane Sullivan amongst others.
MM: Thus far, what has been the best part of working in the movie industry?
HA: Taking an idea all the way to a completed project and being able to see how it affects the audience. It still drives me to continue working to this day.
VM: I have to say that the process of seeing your ideas come to life from one process to another, whether it be during writing, storyboarding, filming, or editing, sound, visual effects, color… It's always a delight and injects this creative and motivating fuel that I am absolutely hooked to.
MM: Career wise, where do you see yourself in ten years?
HA: Directing feature films and TV. This is my passion and it's my goal to leave a lasting impression on audiences worldwide.
VM: I want to be able to make large scale horror films similar to the grander of Guillermo Del Toro's and James Wan's. I hope to not only be a great director but produce multiple films at once, because there's one thing I'm never in short of, and that's stories and ideas!
MM: Do you have any upcoming projects that you would like to mention?
HA: Stay tuned for Scary Nights later this year and the sequel to Dead List. Also, Ivan and I have written a road trip horror film that gives From Dusk Till Dawn a run for its money and we're in the process of shopping it right now.
VM: I'm currently deep in development on La Llorona, a horror film about the famous Mexican legend. I can't speak too much about it since I want to protect the idea at the moment, but I am confident it will see the light of day soon as I have big plans for it. I'm also attached to an emotional and character driven feature horror film called Shallow Water, produced by good friend and producer Albert Melamed.
MM: What advice would you give to someone who is aspiring to enter the industry, especially as a filmmaker?
HA: Don't take no for an answer, partner with people that lift you up as much as you lift them up, and don't be afraid to fail.
VM: Pick up your camera, hire a sound guy if you can't get one for free, and go make your first feature film. Do not waste time and wait for a budget on your first one, get out there and make it!