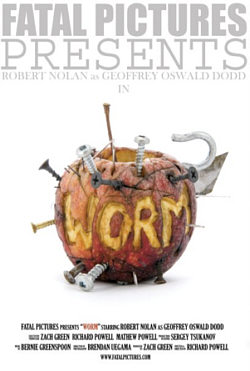 Fatal Pictures presents "WORM" A new twenty minute dark drama detailing the fragile and increasingly terrifying mental state of misanthropic High School teacher Geoffrey Oswald Dodd.
WORM: A day in the mind of Geoffrey Dodd, a seemingly kind, gentle and sane High School teacher. As we follow Geoffrey through the course of a typical school day we gain an eerie insight into the darkest corners of his soul and beyond. Beneath the carefully constructed veneer of Geoffrey Dodd lies something wretched, insidious and foul rotting him from the inside out.
The award winning short film WORM will be screening On July 26 at 7:00 PM at Projection Booth Cinema as part of "LITTLE TERRORS" presented by Rue Morgue and Unstable Ground. (details) and watch for more screenings & news on the WORM Facebook here.