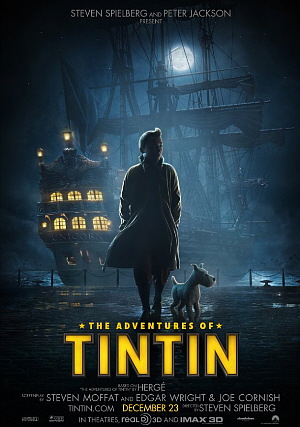 After a less than stellar teaser trailer, the international trailer for Steven Spielberg and Peter Jackson's "Adventures of Tin Tin: Secret of the Unicorn" certainly piques my interest.
Tin Tin is far better known outside of the United States then within, with many confusing Hergé's Belgian reporter with a heroic German shepherd. At first this seemed like an uphill battle to gain American interest, but with Spielberg and Jackson on the marquee and a visually dazzling trailer like this, Paramount and Nickelodeon won't have to worry.
Spielberg is dipping his toe into motion capture waters for the first in a planned trilogy, and his gift with special effects wizardry are on full display here. The dead eyes seen in The Polar Express and Beowulf are nowhere to be seen, and Spielberg, a lifelong fan of the material, will certainly do the property justice.
The film boasts Daniel Craig, Simon Pegg, Nick Frost, Andy Serkis, and Jamie Bell as the titular hero, and is written by Edgar Wright and Joe Cornish (who have recently charmed critics with Scott Pilgrim vs the World and Attack the Block, respectively.
Debuting around the world a full two months before it's American premier, "The Adventures of Tin Tin" arrives on December 23rd, 2011.