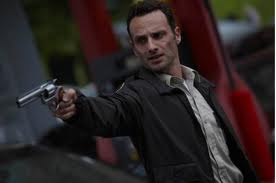 I love The Walking Dead. It's a very solid comic and a fairly solid TV show. Not every episode was perfect, but the end result of season one is a well established world that I look forward to journeying back into this October.
Unfortunately the journey will be without Frank Darabont, according to Deadline. The acclaimed writer/director has stepped down from his position as the show's sole creative voice. His second in command, Glen Mazzara is rumored to take up the mantle as show runner, and it is unclear whether Darabont will stay on in some capacity creatively or leave the show completely.
Rumors about the behind the scenes machinations have swirled for months. At one point it was suggested Darabont would write every script of the season rather then run a regular writer's room. That is clearly no longer the case. If Darabont simply couldn't handle the daily grind of TV and decided to return to features, to be honest I'm all for it. He's leaving the show in very capable hands (Mazzara worked on the exceptional FX drama The Shield) and his films The Shawshank Redemption and The Mist are fantastic. Maybe he'll wrestle the rights to The Dark Tower away from Ron Howard and do that property justice.