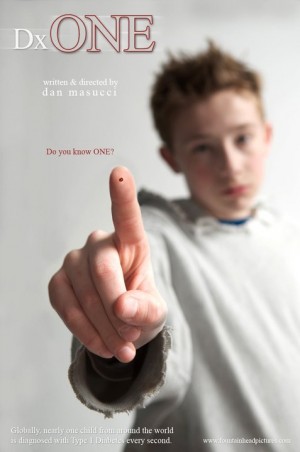 There is no map given when a person starts their journey of life as a parent. There is a lot of stress to make sure things go right. Then again, every parent is different, so no parenting style is the same. Through sicknesses and during healthy times there are challenges. Raising a family is a process done step by step and day by day with fingers crossed that nothing bad happens. But things don't always go smoothly.
Let me introduce you to writer/director/producer Dan Masucci. I first started talking to him years ago. I reviewed a couple of his high quality short drama films, which always seem to tug on your heart. We'd keep in touch from time to time about our projects and families. One day he mentioned his oldest son was diagnosed with Type 1 Diabetes. I really didn't know what this meant, but I soon learned more about it as time went on.
Dan Masucci decided he'd make a short film about his family's emotional experience with this horrible disease. When one family member is diagnosed, the whole family is affected. But as his son states, this disease does not define who he is as a person.
When I watched the film I understood even more what he's been going through. It's really heart-wrenching and there should be more resources, learning opportunities and support available for parents when their child is diagnosed with something like this.
I think that Dan's DxONE short film gives the gift of valuable insight so people can gain knowledge about Type 1 Diabetes. You might just want to be prepared with some tissues when you watch it.
You can find and help support DxONE on Facebook, Youtube and at Fountain Head Pictures. You can also find Dan on Twitter here.