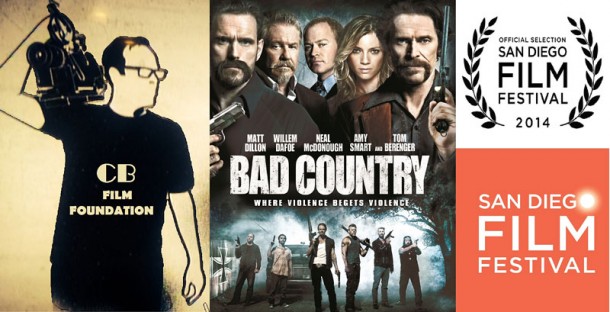 SAN DIEGO FILM FESTIVAL will honor the late director/producer Chris Brinker again at the 2014 "Variety's Night of the Stars, A Tribute" event on Thursday, September 25th at the Museum of Contemporary Art, La Jolla. The recipient for THE CHRIS BRINKER AWARD will be announced by actor TOM BERENGER and presented to an outstanding first-time feature filmmaker. The winner for the 2013 Chris Brinker Award was director Shaun Kosta for his film, "The Republic of Two", presented at the 2013 awards ceremony by director Troy Duffy of The Boondock Saints films, produced by the late Chris Brinker.
The feature film BAD COUNTRY, directed by CHRIS BRINKER was officially selected for the 2014 San Diego Film Festival and the screening will be held on Friday, September 26th at 5:00pm in the Reading Cinemas (Gaslamp 15), San Diego. BAD COUNTRY stars Willem Dafoe, Tom Berenger, Matt Dillon, Amy Smart and Kevin Chapman to name several among a star-studded cast. The period style film takes place in the Louisiana during the 1980s. This action-thriller is about a gritty cop (Dafoe) and a desperate crook, turn-informant (Dillon) who form an unlikely alliance to bring down an organized crime syndicate and the kingpin (Berenger).
Actor Tom Berenger will be a special guest at the BAD COUNTRY screening, Filmmaker Q&A and the VIP fundraiser after-party co-hosted by the CHRIS BRINKER (CB) FILM FOUNDATION with support from the San Diego Film Festival. The VIP after-party will take place at ZYMOLOGY 21 (750 5TH Ave. San Diego, 92101) and is open to the public. BAD COUNTRY screening and after-party tickets may be purchased for $40, in advance on Eventbrite here, or screening only at San Diego Film Festival. Tickets at-the-door are $45 for these events, space permitting. All net proceeds from the after-party will be used for scholarships to college-bound high school students with aspirations in filmmaking and related arts.
Chris Brinker (CB) Film Foundation is a 501(c)3, nonprofit, public charity is a tax-exempt California corporation founded in July, 2013 by friends and family in memory of the late Chris Brinker. Chris or "CB" passed away in February 2013 while shooting final scenes of the film BAD COUNTRY. This feature film embodies Chris' creative vision and was completed posthumously by a devoted and talented team of filmmakers aiming to contribute to CB's lasting legacy.
Chris Brinker was an esteemed native San Diegan and successful filmmaker who produced The Boondock Saints among other independent films. The charity aims to preserve Chris' legacy with the mission to provide merit scholarships to aspiring filmmakers and related artist with financial need. The charity aims to preserve Chris' legacy as a benevolent, passionate, and talented filmmaker who earned a reputation of integrity while nurturing promising screenwriters, artists and filmmakers to pursue their dreams. Four scholarships have been granted so far by the Chris Brinker (CB) Film Foundation. Recipients include Jade Martz (2013), Krysta Kowalski (2013), Emily Stewart (2014) and Luis de la Torre (2014). Point Loma High inaugurated a state-of-the-art film studio in 2013 for the school's cinematic arts program. Point Loma High was Chris Brinker's alma mater (class of 1988) before entering college at SDSU and later CSU when he moved to Los Angeles to pursue his dream to become a filmmaker.