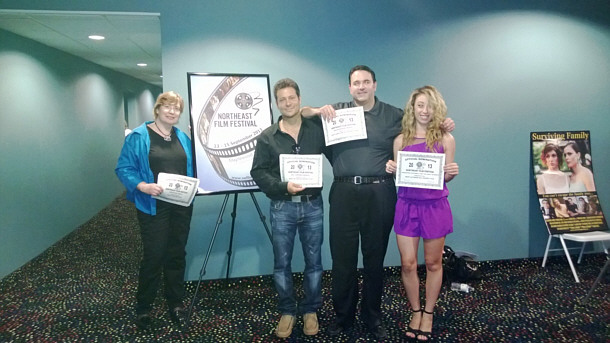 MAPLEWOOD, N.J. – The Northeast Film Festival had a Press Conference to announce their full slate of films and Nominees for their inaugural 2013 Festival on Tuesday, August 27th at the Maplewood Theaters.
Relax your superstitious worries, even though the NEFF kicks off on Friday the 13th (of September), we are assured that only fun is on the slate as it continues through September 15th, closing out with the Gala Awards ceremony.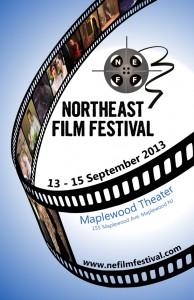 The Opening Night Film will be Surviving Family, winner of no fewer than 16 Awards on the Festival Circuit.
Written and Produced by Jersey City resident Mara Lesemann and Directed by German pioneer, Laura Thies, the film has garnered an incredible 40 Nominations, including 10 in the NEFF, most of any film in the festival!
"Sarah Wilson, our lead actress is amazing," Lesemann said. "And so is Billy Magnussen, who plays her fiancé."
Incidentally, Magnussen is currently in England, where he recently replaced Jake Gyllenhall as Rapunzel's Prince in the Disney film, Into The Woods, Directed by Rob Marshall.
In addition, Lesemann's feature will receive distribution in October that includes a release in Redbox.
Another highlight of the festival will be Sam Borowski's Maniac, which was exclusively reviewed right here on Movie Vine. Maniac recently World premiered at the very prestigious Oscar-Qualifier, FLICKERS Rhode Island International Film Festival, where it was received very well.
Screening in the Super Short Subjects block playing at 8 p.m. on Saturday, September 14th, Maniac is up for Best Short, Best Director of a Short (Borowski) and Best Actor in a Short (Bill Sorvino).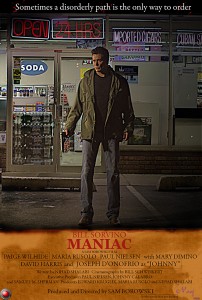 "We're so humbled and honored to not only be up for so many awards in this festival, but to play in such a wonderful venue as the Maplewood Theater, long a home for both Hollywood Hits and Independent Gems," Borowski told Movie Vine. "I still remember coming to this theater to see movies like Harry Brown and The Way starring Martin Sheen when they played theatrically."
According to this reviewer, Bill Sorvino's performance was a groundbreaking and riveting one that makes the viewer forget he was acting. He was so true to the character that I found myself awed and shocked about his disappearance into the role.
"I had to delve into my deepest fears and the most broken parts of my own character from the darkest corners of my mind to create the character," said Sorvino. "I had nightmares for weeks before and weeks after. It was emotionally, by far, the most challenging role I have ever played. "
Borowski's Direction must have had a positive impact on Sorvino, as the former amazingly enough has another short playing in the Fest, Pollination * also up for the same three awards as Maniac, with the exception of Federico Castelluccio receiving the Best Actor in a Short Nomination.
Both will screen in the aforementioned block, along with Imagine (starring Scott Wolf, another Best Actor in a Short Nominee), Ma in Her Kerchief (which features 2 Best Actress in a Short Nominees in Maria Rusolo and Wanda O'Connell) and Michael Ringston's No You Ain't Alright.
Ringston's film, a personal love-letter to Martin Scorsese's Goodfellas, is the one comedy in the block and features a spunky and humorous performance by Best Actress in a Short Nominee Samantha Tuffarelli.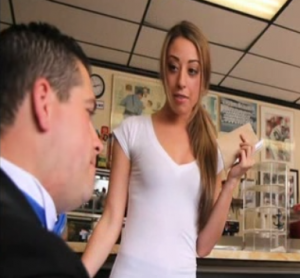 Tuffarelli, a prominent young Actress from the Bronx, brings a wit and screen presence to the film in a short, but very memorable turn. While the entire piece is only 8 minutes, Tuffarelli delivers the final – and most memorable – line, surely to be featured in her Nomination Clip on Awards Night.
Interestingly enough this is Tuffarelli's first-ever Nomination, even though she has been acting since Age 2.
"I'm hoping it's the first of many," she said. "But it's very exciting and came as a total surprise to me."
Other notables of the festival include: Theresa Is a Mother, Birds of a Feather (Directed by Anthony Meindl and Produced by B.D. Gunnell) and Sloan Copeland's Wet Behind the Ears, all best picture Nominees, within multiple Nominations from each film, within other categories.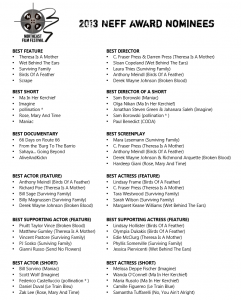 Battling it out for Best Supporting Actress in a Feature are three of Hollywood's best, including: Oscar-Winner Olympia Dukakis (Birds Of A Feather), Edie McClurg and Phyllis Somerville (The Curious Case of Benjamin Button, Little Children, et al), as well as newcomer Jessica Piervicenti (Wet Behind The Ears). This is the category to watch.
With many films and performances, this festival is sure to be quite the talk of the town, bringing top notch performances and behind-the-scenes magic. Tickets to this magical event can be purchased here.