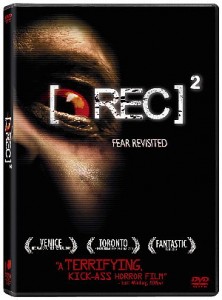 [REC] 2 is being released on DVD on July 12th. I do remember seeing this trailer a while back. Freaky looking film. : ) Below you'll see a video clip and still images of the movie from Sony.
The highly anticipated sequel to one of the scariest films of all time, [REC] 2 picks up 15 minutes from where we left off, taking us back into the quarantined apartment building where a terrifying virus runs rampant. What they find inside lies beyond the scope of medical science – a demonic nightmare more terrifying than they could possibly imagine.
[REC] 2 was written by Jaume Balagueró, Manu Díez and Paco Plaza (Quarantine, Quarantine 2: Terminal), produced by Julio Fernández, and directed by Jaume Balagueró and Paco Plaza.
Cast starring Jonathan Mellor, Manuela Velasco, Óscar Zafra, Ariel Casas, Alejandro Casaseca, Pablo Rosso, Pep Molina, Andrea Ros, and more.