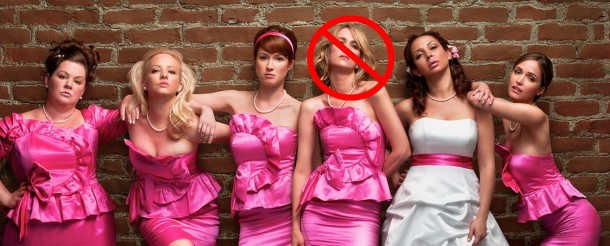 I enjoyed Bridesmaids. Not as much as others, but still, It was alright. I'm in the minority of course, since the film grossed nearly $300 million worldwide and is getting more awards attention than many pundits expected.
So it's no surprise that Universal has been eyeing development of a sequel lately, and The Hollywood Reporter has broken the news on some troubling developments. Wiig and writing partner Annie Mumolo (who both penned Bridesmaids) have been working on several smaller projects and are booked for a large chunk of the next year. Universal tried luring the pair back with fancy dinners and mentions of bonuses, but neither have expressed interest in returning.
So Universal is moving forward without either of them, contemplating a film based around Melissa McCarthy's break-out supporting character Meagan. "We are over the moon with the success of Bridesmaids, and if we do a sequel we want to get it right," a Universal rep says. "We are talking to filmmakers now about concepts, and if the right one emerges, we'll move forward."
Universal may not remember that they already pulled this trick when Jim Carrey didn't want make a sequel to Bruce Almighty, so they pulled in supporting player Steve Carrell for Evan Almighty. Presumably they also don't remember the critical and commercial bomb that ensued. I can't imagine a sequel to Bridesmaids without the star and writing team from the original being nearly as good.
What do you folks think? Would you see a Bridesmaids 2 without Kristen Wigg?