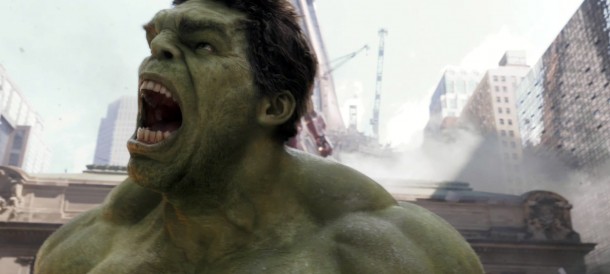 Forbes spoke with Marvel Studio's Paul Gitter about the financial side of bringing the Marvel Universe to the big screen, and the story suggests a new flick is in store for the Angry Green Giant:
Marvel executives have been "pleasantly surprised by the phenomenal response" to [the Hulk], and expect this fan affinity to further strengthen once the movie opens. "His sales are up in a major way. We repositioned him from where he was always misunderstood to now depicting him in a more heroic and aspirational manner," says Gitter.

If Hulk's successful turnaround continues, Gitter says Marvel "will spin him off to a stand-alone program next year," presumably supported by a big budget franchise movie in 2015.
I'm definitely open to a new Hulk flick. I enjoyed large parts of both Ang Lee's 2003 Hulk and the 2008 Marvel revamp The Incredible Hulk, but its hard to make a case for either of them being more than 3/4s of a good movie.
Mark Ruffalo is signed for six features as Bruce Banner, and early word is that he's the breakout fan favorite of the whole Avenger team. If this next installment does indeed happen, expect him to be the first actor to play Banner is more than one movie. Now all Marvel's gotta do is find a director….
We'll keep you updated as this story develops.