I've enjoyed reading the sci-fi alien invasion book "The Host" by Twilight author Stephenie Meyer and I was really interested to find that there is a movie being made about it. I've been loosely watching the casting process, but I wasn't impressed with the teaser trailer, though who can tell much from a teaser trailer anyways. I'm patiently waiting for the real trailer and I hope the producers release a better quality version that this story deserves.
"The Host" book was published in 2008. It was Stephenie Meyer's highly anticipated follow-up to the wildly popular and acclaimed Twilight series. The book was #1 on The New York Times Bestseller List for 26 weeks and continues to be an international phenomenon.
Here's the synopsis: "The Host" is a riveting story about the survival of love and the human spirit in a time of war. Our world has been invaded by an unseen enemy. Humans become hosts for these invaders, their minds taken over while their bodies remain intact. Most of humanity has succumbed. When Melanie (Saoirse Ronan), one of the few remaining "wild" humans, is captured, she is certain it is her end. Wanderer, the invading "soul" who has been given Melanie's body, was warned about the challenges of living inside a human: the overwhelming emotions, the glut of senses, the too-vivid memories.
But there was one difficulty Wanderer didn't expect: the former tenant of her body refusing to relinquish possession of her mind.
When outside forces make Wanderer and Melanie unwilling allies, they set off on a dangerous and uncertain search for the man they both love.
Here's your first look at Jake Abel with Saoirse Ronan…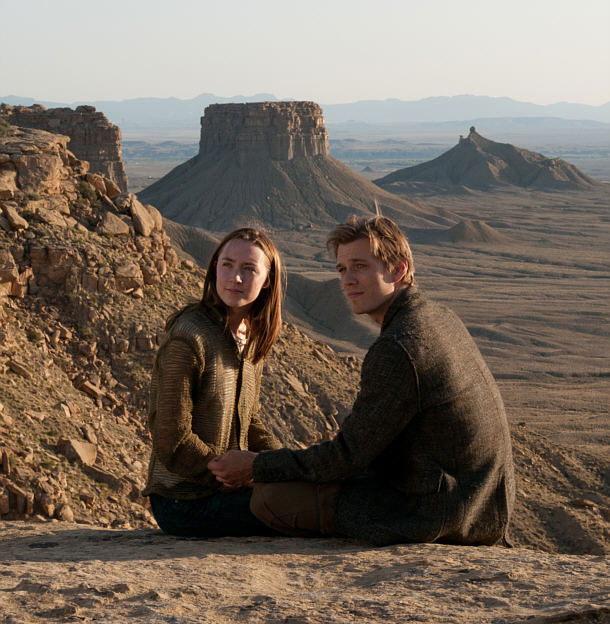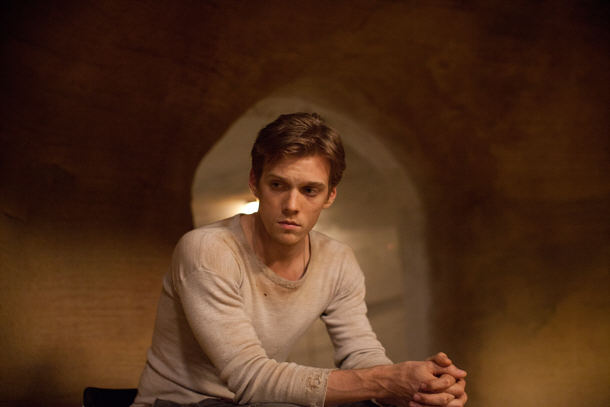 "The Host" arrives in theaters everywhere March 29, 2013. The movie stars SAOIRSE RONAN (Hanna, The Lovely Bones, Atonement, upcoming Byzantium), JAKE ABEL (Percy Jackson And The Olympians: The Lightening Thief, I Am Number Four, The Lovely Bones, upcoming Percy Jackson And The Olympians: Sea of Monsters), MAX IRONS (Red Riding Hood, Dorian Gray, upcoming Vivaldi), WILLIAM HURT (Into The Wild, A History Of Violence, The Incredible Hulk) and DIANE KRUGER (Inglourious Basterds, National Treasure, Unknown).
Official Facebook: http://www.facebook.com/thehostmovie
Official Twitter: http://www.twitter.com/thehostfilm