Richard Gabai is an actor, producer, director, and musician based in Los Angeles who has been working in the entertainment industry for over 20 years. He is a dedicated and passionate creator that I have known since 2011 when a film he directed and produced, "Insight," starring Sean Patrick Flanery, Natalie Zea and Christopher Lloyd, was being released.
Another notable film that he directed "Justice" starring Jackson Rathbone, Jamie-Lynn Sigler, Steven Lang, Nathan Parsons, Ellen Hollman, Quenton Aaron, and Robert Carradine was released last year by Universal.
His latest film is on the Hallmark Channel, "A Gingerbread Romance," starring Tia Mowry-Hardrict and Duane Henry.
Read below to find out more about Richard's latest project:
Wendy Shepherd of Movie Vine: How did you get involved with directing Hallmark Channel's "A Gingerbread Romance"?
Richard Gabai: Samantha DiPippo, an executive that I worked with at another network is now at Hallmark and she recommended lucky me for the gig. I'd been wanting to work with Hallmark for quite a while so I jumped at the chance!
WS: What are some of the things you did to prepare for production?
RG: Hallmark is an amazing brand – and their movies have a magical appeal; so, I probably watched at least twenty of their Christmas movies to prepare to direct this one!
WS: Where was "A Gingerbread Romance" filmed?
RG: The story takes place in Philadelphia but thanks to "movie magic" we were able to shoot the film entirely in and around Vancouver.
WS: How long did it take you to film "A Gingerbread Romance"? When was it finished?
RG: Production was over a three week period, and amazingly enough the movie has its premiere eight short weeks after we wrapped. Pretty amazing tribute to the post production and visual effects teams!
WS: How do you keep motivated when you're tired during filming?
RG: The truth is I don't get tired when I'm filming. I love my job and am always excited to be on set. It usually all hits me after the show is finished.
WS: What challenges did you have to overcome while filming?
RG: The biggest challenges we had related to schedule. We had so many locations, and so many sets to dress. The art department was constantly busy. I don't know how they did it! We also had to manage the work time and school schedule of our 8 year old actress Melody Niemann. As a minor we need to make sure she gets in her school day and only works for about four hours per day. She is in quite a few scenes so that was challenging. Melody is fantastic – when you see her in the film you will fall in love with her!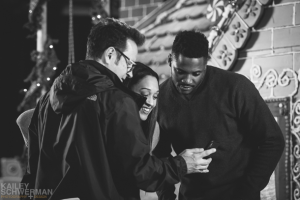 WS: We always seem to learn something from the people we work with, what is it that you've learned from Tia Mowry-Hardrict and Duane Henry from this project?
RG: They are both such professionals, and that can't be overstated. Tia has been in the business forever – and it shows. She never needed a second take, we did a few of course but it was always for fun or to try something else. She had given birth to her adorable daughter Cairo just five months before we started shooting, but she didn't let that slow her down. Not once! Dedication and hard work pay off – she personified that. Duane was always calm, cool, collected, and charming. He always brought a positive energy to the set. I try and do the same, without the British accent. 🙂
WS: Do you have any tips you can share about making gingerbread houses?
RG: I am pretty good in the kitchen, but I don't bake so I have no clue about how to make an actual gingerbread house. Tia on the other hand is an expert chef – and funnily enough in our story she plays an architect that has no idea about how to cook!
WS: Who did you watch "A Gingerbread Romance" premiere with?
RG: With my family. There's nothing better than that!
WS: What are some of your other favorite holiday movies?
RG: With holiday movies I go with classics; "A Christmas Carol," "Holiday Inn," and "A Miracle on 34th Street." These were old classics when my Dad showed them to me as a kid, but for me they still work. I have a new favorite though; it's called "A Gingerbread Romance!"
Thanks for sharing Richard!
The "A Gingerbread Romance" movie premiered on the Hallmark Channel on December 16 and will air again on Thursday, December 20 at 10 p.m. Saturday, December 22 at 12 p.m. and Sunday, December 30 at 2 p.m.
About "A Gingerbread Romance": When a young architect enters a contest to design a life sized gingerbread house, she teams up with a local chef who teaches her that a home for the holidays is where your heart is. Stars Tia Mowry-Hardrict and Duane Henry.
Connect with director Richard Gabai online:
Website: http://www.richardgabai.net/
IMDb filmography: https://www.imdb.com/name/nm0299923/
Twitter: https://twitter.com/richardgabai
Facebook: https://www.facebook.com/richard.gabai
Instagram: https://www.instagram.com/richard_gabai/