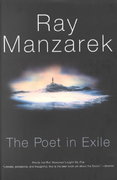 Do you think Jim Morrison is still alive?  What if Jim Morrison got sick of being a rock star and faked his own death in 1971, then moves to an remote island with his girlfriend Pamela.  After forty years of being dead he comes out of hiding and contacts his keyboard player.  Well, that is how this story is told in a book called The Poet in Exile.  This book is written by The Doors co-founder and keyboard player Ray Marazek and now it's going to be made into a movie.
The Director Tim Sullivan bought the rights to the story.  He is writing the script and directing it.  Sullivan also produced an unreleased documentary of the Doors 21st. Century reunion tour.  This film is planned to shoot in the year 2012. I don't know if the title of the movie is going to be the same as the book. I'm a big Doors fan and I think Jim Morrison was a great poet. To all of The Doors fans out there I will keep you posted on this project.
Here's the press release with full information:
(Hollywood, CA)- Tim Sullivan (Driftwood, Chillerama, Vh1's Scream Queens) has optioned the rights to Doors co-founder Ray Manzarek's bestselling novel The Poet in Exile. Plans call for a feature film to be written and directed by Sullivan and produced by Manzarek. Sullivan will co-write the script with Chillerama producer and editor Gavin Heffernan (Expiration) and New Mexico poet/author Liz Sullivan (Icons and Outcasts).

Published to strong acclaim, Manzarek's novel explores the notion "what if" his former bandmate, the iconic rock and roll poet and legend Jim Morrison, did indeed stage his death in 1971 (as widelyspeculated), and now, 40 years later, contacts Manzarek from his hiding place in the Seychelles Islands to embark on one final journey of rock and roll rebellion.

The Doors are not unfamiliar with the celluloid screen. Between Oliver Stone's epic biopic The Doors and the highly praised documentary When You're Strange (narrated by Johnny Depp), the fame and folklore of Jim Morrison and company has seen its share of high-profile cinematic treatment. But never before has an actual Doors film project originated from a member of the band.

"The number one question I get asked is, 'Do you think Jim Morrison's really dead?'" Manzarek revealed. "All I can say is, I personally have not seen or heard from Jim since he left for Paris 40 yearsago. And I miss that guy. He was a poet. A Dionysus to my Apollo. A great performer, a shaman. And a damn good friend. The real Jim, the human Jim, always gets overshadowed by the Morrison myths and legends. But that's the Jim I captured with the book and, along with Tim Sullivan, seek to capture with the film."

While known primarily for his presence in the horror genre, Sullivan is no stranger to the field of music, having served as MTV News staff writer and producer of the KISS rock and roll comedy Detroit Rock City as well as producer of the unreleased documentary on The Doors of the 21st Century's reunion tour, his firstcollaboration with Manzarek.

"The spirit of Jim, the spirit of the 60's, truly lives on in Ray," said Sullivan. "Ever since I first read Poet, I knew it would make an amazing film. Ideals and dreams never die, but they often have a difficult time breaking through to new generations. That's what this story is about, the perseverance of love and truth, as embodied in the deep bond and friendship between two incredible artists."

With 2011 marking the 40th anniversary of L.A. Woman, The Doors final album, as well as the 40th anniversary of Morrison's death in Paris, the timing seems right for The Poet in Exile. In honor of these events, Manzarek has been on the road with original Doorsguitarist Robby Krieger, a highly anticipated tour that included a recent sold-out stop at the famed Whisky A Go Go on the Los Angeles Sunset Strip. With more than 100 million albums sold worldwide, and over one million continuing to sell annually, The Doors influence on modern generations shows no sign of stopping.

Scheduled to shoot 2012, The Poet in Exile will be produced through ClubHouse Entertainment, Sullivan's production company formed with Heffernan and fellow writer/directors Brian McCulley (Text), John Crockett (The Locals), Adam Robitel (The Bloody Benders) and Paul Ward (One for the Road).

Official website: http://www.poetinexile.com
About Ray Manzarek

American musician, singer, producer, film director, writer, co-founder and keyboardist of The Doors. Ray Manzarek first met Jim Morrison at UCLA where they both studied film. Forty days after graduation, they re-met by chance in Venice Beach, California, where Morrison sang Manzarek some songs he had written. Manzarek thought the songs were pure poetry and co-founded TheDoors with Morrison right then and there. The rest is rock and roll history. Since the death of Jim Morrison in 1971, Manzarek has continued to chase the muse. As a musician, he has released several solo albums of both his own and in collaboration, including the current release Translucent Blues with jazz guitarist Roy Rogers. As filmmaker, he wrote and directed the noir mystery Love Her Madly (2004). As bestselling author, he has published several books, including Light My Fire, his memoirs of life with The Doors, the supernatural Civil War thriller Snake Moon and The Poet in Exile, the fictional account of a modern day reunion between himself and Morrison. As Manzarek/Krieger, Manzarek is currently ontour with fellow Doors band mate and lead guitarist Robby Krieger. For more information on Ray Manzarek, please visit www.raymanzarek.com.

About Tim Sullivan

Writer/Director/Producer known for a wide variety of modern horror films, most significantly cult favorite 2001 Maniacs (2005) and its popular follow-up, Field of Screams (2010), Tim Sullivan began his career as a NewJersey teenager pumping fake blood for 80's splatter classic The Deadly Spawn (1983). Sullivan moved to Los Angeles where he worked in development at New Line Cinema, co-producing Detroit Rock City (1999). With a directing style ranging from the 'splatstick' nature of the Maniacs franchise to the serious bent of teen thriller Driftwood (2007), Sullivan gained additional notoriety as celebrity director of Vh1's hit series Scream Queens (2010) as well as creator and host of Shock N Roll, his weekly talk and video blog on leading web network Fearnet.com. Recently joining forces with fellow monster kids Adam Green, Joe Lynch and Adam Rifkin for the comedy/horror anthology Chillerama (2011), Sullivan contributed the musical segment I Was a Teenage Werebear, embracing his passion for camp and rock and roll. Set to follow Chillerama, a variety of projects produced through Sullivan's new production entity, The Clubhouse; teen comedy Battle of the Bands, Stephen King short One for the Road, and The Poet in Exile, a stirring drama based on The Doors co-founder Ray Manzarek's bestselling novel about his life with Jim Morrison. For more information on Tim Sullivan, please visit www.facebook.com/NewRebellionEntertainment.
By Michelle Hassenstab