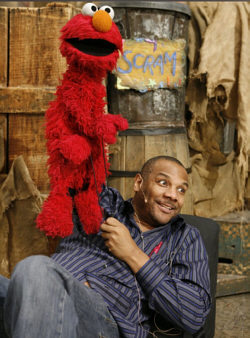 One of the biggest flicks to come out of this year's Sundance Film Festival was Being Elmo, a documentary about puppeteer Kevin Clash and his rise to stardom as the Sesame Street character Elmo. The film will have a limited run in early October and will open wider as the word of mouth grows.
From the press release:
Combining amazing archival footage with material from the present day, filmmaker Constance Marks explores Kevin's story in vivid detail and chronicles the meteoric rise of Jim Henson in the process. Narrated by Whoopi Goldberg and including interviews with Frank Oz, Rosie O'Donnell, Cheryl Henson, Joan Ganz Cooney and others, this insightful and personal documentary offers up a rare, behind-the-scenes look at Sesame Street and the Jim Henson legacy.
The film's release schedule is as follows:
October 21 New York, NY IFC CENTER
November 4 Los Angeles, CA Laemmle Theaters
November 4 Seattle, WA Landmark Varsity
November 4 Larkspur, CA Lark Thetater
November 11 San Francisco, CA The Roxie
November 11 Baltimore, MD Charles Theater
November 11 Maitlin, FL Enzian Theatre
November 11 Washington DC Landmark E Street Cinema
November 16 Boston, MA Brattle Theatre
Novmeber 18 Boston, MA Coolidge Corner Theater
November 18 West Newton, MA West Newton, MA
November 18 Philadelphia, PA International House of Film
November 18 Atlanta, GA Landmark Midtown Art
November 18 Minneapolis, MN Landmark Lagoon or Edina
November 18 Santa Fe, NM CCA Santa Fe
November 25 Tucson, AZ The Loft Cinema
November 25 Portland, OR Living Room Theaters
November 25 Coral Gables, FL Living Room Theaters
November 25 Hartford, CT Real Art Ways
November 25 Ann Arbor, MI Michigan Theater
November 25 Hudson, NY Time and Space Limited
December 2 St. Louis, MO Landmark Tivoli or Plaza Frontenac
December 27 Houston, TX MFA Houston