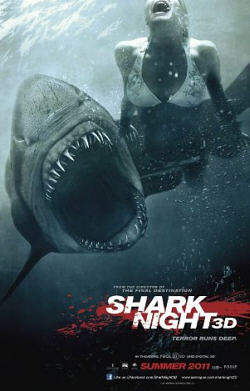 Shark Night 3D In Theaters September 2, 2011.
The plot takes place around Lake Pontchartrain in Louisiana, where there is something that is unheard of and dangerous lurking in the fresh water. Seven college friends will find out when their weekend vacation goes deadly and they are subjected to shark attacks. How did the shark find its way into the lake or was it put there by the locals?
Cast: Sara Paxton, Dustin Milligan, Chris Carmack, Joel David Moore, Katharine McPhee.
By Michelle Hassenstab