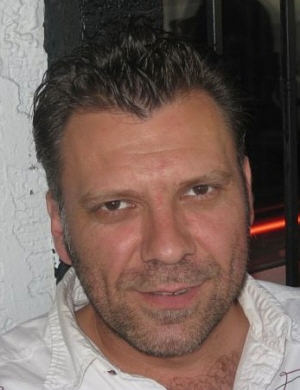 A man borne of tragedy and triumph, Sanel Budimlic is a man who brings inspiration to those around him and to those who look up to him. After his harsh life during the Bosnian/Serbian War, he came to the United States in search of something more, something better…and found it.
Kale Slade: Your life has been grand, your love and heart for film, friends and family grander still, how often do you show your love through your portrayals?
Sanel Budimlic: I hope that people know I show my love for film, for life, for family, for friends and for freedom. My life has been finding those people I can be comfortable around, knowing that we have the same vision.
Kale Slade: How often do you get to portray roles that hit close to your heart?
Sanel Budimlic: Not often, but when I do I put 100% into it. Hopefully the future will have more opportunities knocking on my door, but right now I'm not hearing those knocks… God forbid I'm not running deaf.
Kale Slade: Has your experience in the United States been fulfilling to you?
Sanel Budimlic: I have a whole new life now, I have a wife and two beautiful girls, so yeah, I would say my experience in the U.S. has been fulfilling.
Kale Slade: If you could portray any character, who would it be?
Sanel Budimlic: I have a real love for music and for musicians. I don't play any musical instruments, so it would be a fantasy of sorts to portray a musician or band member.
Kale Slade: You are an inspiration to me and on behalf of myself and other fans, I ask, what is your method of connecting with your fans?
Sanel Budimlic: I didn't even know I had fans, but if there are some of them out there it's nice to hear. I have a personal website I'm putting out there, www.madeinbosna.com, that I hope people will come and visit so that I can introduce them to the Bosnian culture.
Sanel Budimlic is a new documentary called Off The Boulevard: http://www.offtheboulevard.com plus make sure to visit his official website at http://www.madeinbosnia.com