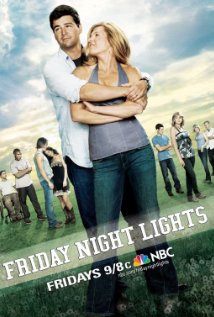 Friday Night Lights began as a book, then turned into a movie, and from there morphed into a critically acclaimed TV show that lasted an astonishing 5 seasons. The show recently wrapped its run, but Peter Berg (who directed the film version and developed the series for TV) is thinking of taking the cast to the big screen one last time.
From TV Line, "We've been meeting with [fellow FNL Executive Producer] Jason Katims for the last couple of weeks. We have a real good script idea. We want to do it. We're very serious about doing it. We intend to do it." This idea involves bring Kyle Chandler and Connie Britton back as Coach Eric Taylor and his wife Tammi, with the "goal…to focus the film around Kyle and Connie and bring [in] some new characters and then bring in some of our familiar faces. We have, I think, a really fresh, very original take on it. We're very serious about wanting to do it… If all goes well, we would shoot it next year at some point."
I'm just getting around to finishing season five, and I am all for spending another two hours or so in Dillon, Texas. Of course, this Friday Night Lights movie joins the ranks of Arrested Development and Party Down as beloved series with small audiences that want the big screen treatment. Since Berg has an in directing major Hollywood films, including the insanely expensive looking Battleship, I think this one has the best chance of all.