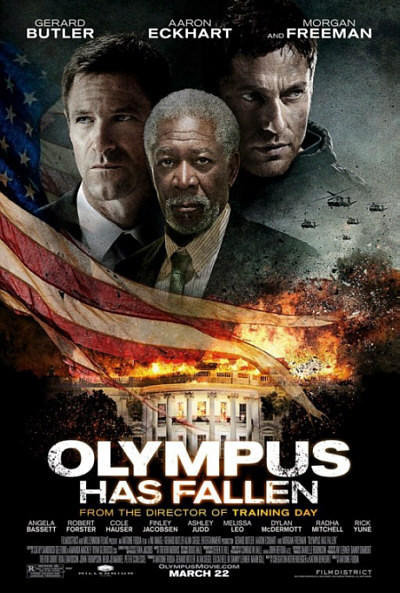 A few days back, I had the good fortune to attend a preview screening for Olympus Has Fallen, the first film featuring a group taking over the White House (the next to be White House Down). The Antoine Fuqua (Training Day, Shooter) directed film stars Gerard Butler (300, Law Abiding Citizen), Aaron Eckhart (Thank You for Smoking, The Dark Knight) and Morgan Freeman (The Shawshank Redemption, Million Dollar Baby).
The premise is no mystery, the White House is attacked and taken over by terrorists in a sequence that is sure to upset and cause cringing within many Americans, myself included. This is where the film kicks off. After the White House is taken, Secret Service Agent Mike Banning (Butler) is a man alone in a Die Hard scenario. With a past of disgrace after a tragic event involving President Benjamin Asher (Eckhart), Banning had been removed from the President's guard and given a desk job.
After the President is held hostage, it is up to Banning to fight and take back the White House in a series of violent, brutal and at times, comedic events. In this, the film pulls it off in a shocking and entertaining fashion, appearing to walk along the same formula as other action thrillers, but twisting what you'd expect into an original and nerve-wracking story. An amazing freshness within the action genre today, the film always leaves the audience in awe of what they have seen.
This is easily one of the best films of 2013 thus far and likely to be one of my favorites of the year, as it blends classic elements of 1980s and 1990s action films with a fresh, new take with its White House story. Patriotism is also a big theme within this film, uniting audiences in favor of Banning and Asher. This is an edge of your seat thrill ride that is sure to fill you with tension, anticipation and pleasure from the very first frame.
Olympus Has Fallen is on Facebook, Twitter and IMDB.
Review by Kale Slade