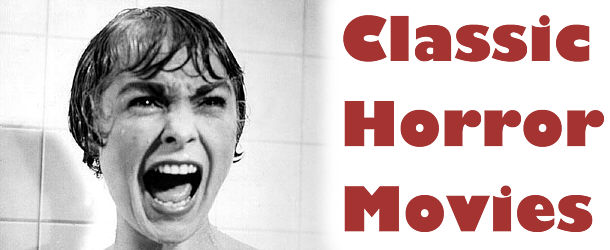 On twitter  I again asked my followers what their favorite horror movies are and I received some titles that were classic oldies but still goodies in my book.  I decide to share the titles that were given me. Here are the seven classic horror movies that a lot of us still like to watch.
1. Psycho – (The original) This 1960 movie is about a man with two personalities named Norman Bates (Anthony Perkins) who runs a motel called The Bates Motel with his so-called mother. Who can't forget the famous shower scene with Janet Leigh, directed by Alfred Hitchcock?!
2. Wicker Man – (The original) This 1973 movie was directed by Robin Hardy and stars Edward Woodward, Christopher Lee, Diane Cilento, and Britt Ekland.  The scene is set when a police sergeant visits the remote Hebridean Island in search of a missing girl.  The local Islanders are pagans and still worship the Celtic gods of their ancestors.
3. The Shining – This 1980 movie is based on a Stephen King novel and directed by Stanley Kubrick.  Stars include Jack Nicholson and Shelley Duvall.  The new care taker Jack Torrance and his family move into a hotel that is haunted by evil.
4. Lost Boys – This is a 1987 teen vampire movie.  Which it was directed by Joel Schumacher and has a great cast including Jason Patric, Corey Haim, Dianne Wiest, Kiefer Sutherland, Jami Getz, Corey Feldman, and Alex Winter.  Two teenage brothers move with their mom to a new town, some of the teenagers are vampires.
5. Cujo – Another movie from a novel that was written by Stephen King. Directed by Lewis Teague and stars Dee Wallace, Daniel Hugh Kelly, and Danny Pintauro.  A St. Bernard gets bitten by a bat and contracts rabies.  A mother and son get in the dogs path they get trapped in their car that won't start.
6. Texas Chainsaw Massacre – (The original) Is an American independent horror film that was directed by Toby Hooper and stars Marilyn Burns, Edwin Neal, Jim Siedow, and Gunner Hanson who played leather face.  It's about some teens who are stuck somewhere in Texas and they get hunted down by a crazy family of cannibal killers.
7. Rosemary's Baby – This was a novel by Ira Levin. Directed by Roman Polanski and stars Mia Farrow, John Cassavetes, and Ruth Gordon. The film is about a young married couple who moved into a new apartment.  The young woman finds out that she is pregnant but it's not her husband's child. She soon finds out that her neighbors are satanist and her husband made a pact with the devil.
By Michelle Hassenstab