Night Of The Templar: A Medieval Knight resurrects to fulfill his vow and bestow a blood-thirst vengeance upon the kindred spirits of those who betrayed him long ago. In the course of one night, identities will be revealed, destinies met, and a poetic justice of the macabre maniacally served. Night Of The Templar can be found at Cannes on May 17.
Here's an exclusive look at the new poster! …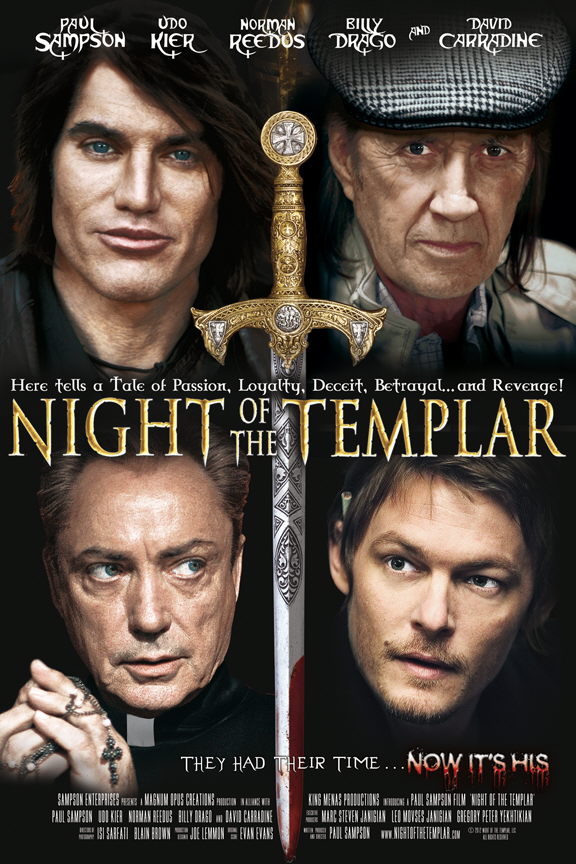 This movie has a dynamic star cast including: Paul Sampson (Lord Gregoire / Jake McCallister), David Carradine (Shopkeeper), Udo Kier (Father Paul), Norman Reedus (Henry Flesh), Billy Drago (Shauna the Chef), Max Perlich (Benoit the Butler), Nick Jameson (Lord Renault), Jack Donner (The Grand Master), Ingrid Sonray (Amy), Lisa Gleave (Ashley), Sofie Norman (Celine), Mary Christina Brown (Japoniko), Hrach Titizian (Melkon), Assaf Cohen (Menas), Gregg Lederman (Koko) and more. This is David Carradine's last movie. Paul Sampson actually acted, directed, wrote and produced this film. Talk about a lot of hard work!
Here's what Norman Reedus has to say about Night Of The Templar: "I took the project (Night of the Templar) for a lot of reasons. Paulie (Sampson) and I are long time friends, and in this I know him as an artist. I had no doubt his film would be original, exact, and edgy. After seeing a rough cut of a couple of the scenes, I knew I was right."
Check out more info on the movie database: http://www.imdb.com/title/tt0768222/combined + the photos and media on the Official website: http://www.nightofthetemplar.com You can also follow on Twitter and 'Like' on Facebook.