By Mallory Proverbs (for MovieVine.com)

Toronto International Filmed Festival-TIFF a yearly event that drives Toronto to anticipate an invasion of celebrities and tourists from all around the world. This year is especially news making, because all eyes are on Kristen Stewart.
During the whole scandal with what we are not sure is the true story, Twihards / Kristen Stewart fans still flock to wherever and whatever she does and TIFF better get ready because they're about to feel full forced power of her fandom.
My first TIFF ever was this year's, and I came for one and only one reason; the On the Road film featuring Garrett Hedlund, Kirsten Dunst, and KRISTEN STEWART!! This film has been a desire for me to see since filming began. Maybe, I'm bias but it was partially filmed in Montreal, my hometown. This book-turned movie has been a long time coming.
My friend and I met Walter Salles, the director of On the Road, by coincidence, outside the theatre. He was so genuinely happy to see us and he told us information about the new version of the film. We then started to speak French to him and posed for pictures. He was extremely excited to meet fans of the film and couldn't wait for us to view it. With meeting the director in our first hour arriving in Toronto, we knew this trip would priceless.
Camping out and getting to the event early:
I'm a vet when it comes to getting there early for premieres, tickets, events, you name it; especially when it comes to the phenomenon that is anything Kristen Stewart related.
It's 6:30 A.M. in the morning of the OTR premiere, and my friend and I already are lining up at Ryerson theatre, where the first North American screening of OTR will be held. I would also like to point out that the screening is at 9:00 P.M. the same night. Yes, we are early: It is needed to secure a great spot on the red carpet, also known as the coveted "directly behind the barricades" spot. Having camped out for four days near the Nokia Theatre for Breaking Dawn part one's premiere in Los Angeles, this will be a walk in the park.
We're seated in our lounge chairs and slowly but surely, one by one, fans start to line up. We meet some old friends and new ones while in line. This is what's great with the fandom: We could barely know someone and then within the next hour, we would act like we've known each other for years. The buzz is around about Kristen. How will she act? What will the paparazzi say? How will the fans react to seeing her for her first public appearance since the scandal happened? It's around 12 o'clock now; we're 6 hours into camping out, and autograph hounds are in line trying to get a position near the barricade.
Kristen Stewart's arrival:
I'm pretty much zealous and antsy waiting for Kristen to come. Her publicist shows up and warns the interviewers about not asking about her recent scandal. Two minutes later Kristen arrives, and my heart starts to palpitate. I haven't seen her in person since her entrance in the theatre during the Breaking Dawn part 1 screening in Los Angeles. She poses for pictures for the TIFF studio, and then immediately comes over to our barricade. She takes pictures, and then it's my turn to have my time with Kristen. She steps in front of me and smiles; I am in a complete daze. I then start to talk to her: "Kristen, your dress is sick, kid!". She smiles, laughs, and says "Cool, thanks man!". I proceed to ask for a picture, and she responds "Absolutely!". I then realize I have no functioning camera on hand. Kristen turns to my friend and takes a picture with her, then returns and poses with me. Garret Hedlund comes over to talk to us and poses for pictures with fans. No one says anything to Kristen about her recent scandal, but to me you can see in her demeanor that she's a bit on edge. Kristen and Garrett continue on, going down the line doing interviews throughout the red carpet. Kirsten Dunst comes around also to talk with fans. I am now so eager to watch On The Road finally.
On The Road: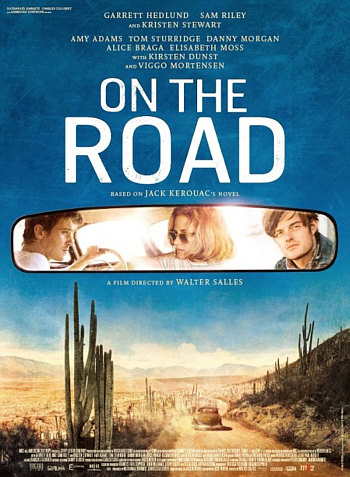 I have not read the book, so I won't judge it on how well it was transferred to script. I knew the basis of the story, but I had no expectations. The film was exceptional; it literally takes you back in time and it makes it almost relatable. On The Road was surreal to see. After waiting for so long since production began, we are finally viewing the film. The characters, especially Sal (Sam Riley) and Dean Moriarty (Garrett Hedlund), develop throughout the film flawlessly. They break free of the usual habits, what is expected of them, and they just want to break the mold to find "it": The "it" is about finding the essence of life.
Tom Sturridge plays the gay poet with such soul and depth that you can really feel what Carlo (his character) felt.
Garrett Hedlund outshines everyone with his performance throughout the film. I felt extremely melancholic for his character in the final moments of the film. Kristen's performance as Marylou was impeccable. I've watched many of her films and I felt this was her best performance yet. Her character's story flows throughout the movie, from a young naive girl having way too much fun with drugs and sex who starts to realize that she still wants more from her life.
I have to admit, my least favorite character was that played Sam Riley. I felt he lacked depth and emotion when pivotal scenes should have been more exuberant in the film.
On The Road is just about accepting who you are, following your dreams, living fully, and enjoying life to the fullest. That's the best advice anyone can give.
"The best teacher is experience.".
I cannot wait to watch it again.
I'd rate it 3 1/2 out of 5.
Visit the official website : On The Road