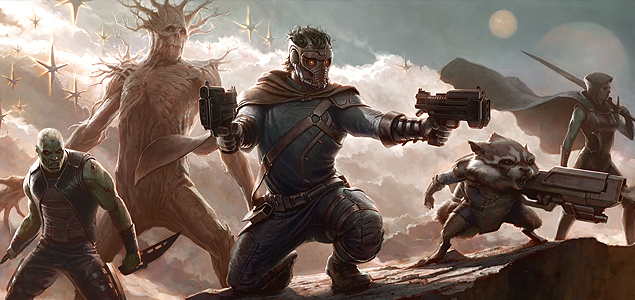 Guardians of the Galaxy is the biggest question mark when it comes to Marvel's Phase Two slate, but with James Gunn directing I'm very, very excited for the first big screen adventure of Star-Lord and Rocket Raccoon. The casting of Star-Lord, aka Peter Quill, a human astronaut chosen to become an inter-galactic policeman, has been exhaustive. Quill will most likely be the lead of the film, and Marvel had to choose carefully.
According to Deadline, Chris Pratt has landed the role. Pratt has been a featured player on NBC's Parks and Recreation, which is arguably one of the best comedies on TV today. He also recently appeared in Zero Dark Thirty as one of the Seal Team Six squad mates and delivered a surprisingly dramatic performance. That mix of comedy and drama is the exact tone that Marvel is looking for, and I'd say they've made a pretty good choice here.
Now, here's the part where we can start speculating. All the previous Marvel films had hints and nods to what came next, and I wouldn't be surprised if there was a hint of Quill's presence in Iron Man 3 (which is still shooting, if you can believe it). Marvel recently released information on the toys that will accompany Iron Man 3's release, and one of the suits listed is a space suit. Perhaps Quill's ship will launch and be lost during the events of Iron Man 3, and towards the end, after the Mandarin has been dispatched, Stark will go out to try and find Quill's ship. That seems like a pretty great set up for Guradians, doesn't it?
The Guardians of the Galaxy is slated for release on August 1st, 2014.