Adam Fristoe is known to fans of the hit MTV series, Teen Wolf, as the wonderfully acerbic Mr. Harris (Seasons 1 and 2 of the show are available on DVD and Netflix). Join as we discuss Adam's active role in the theater scene of his native Atlanta, his work on a new show produced by the folks from Breaking Bad, and of course, what's in store for Mr. Harris in Season 3 of Teen Wolf.
Katie: Welcome to Movie Vine, Adam.
Adam: What a pleasure.  Thanks for taking the time to talk with me.
Katie: To begin, let's talk about your role on the cult hit series, Teen Wolf. How did you become involved with the show? What was the audition process like?
Adam: I auditioned, like everybody else.  I originally read for Dr. Deaton, the role played by Seth Gilliam.  If I'm going to lose a role, I want it to be to a great actor like Seth.  He does an excellent job.  After my initial read with the casting director, I auditioned with Jeff Davis, creator of the show, and Russell Mulcahy, director, in a wood paneled room at the Atlanta offices.  It was fun.  After I read, they looked at each other like, "Who is this guy?"  Later, Russell told me that he can't quite figure me out.  It's a good quality for a show like this.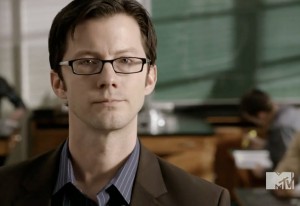 Katie: The character you play on the show, Mr. Harris, is delightfully dry, and you appear to relish playing him on screen. Is that a fun character to embody? What do you love about him?
Adam:  Villains are so fun to play, especially viciously smart, complicated villains.  Something that makes Mr. Harris an especially good character is that there's a good chance he's not a bad guy.  He has some bad luck, and is certainly disappointed by everyone's inability to live up to his ideals.  He has some personal and moral challenges, but he could just as well turn out to be the good guy.  We talk about his similarity to Severus Snape.
Katie:  Is that your personal sense of humor that you've lent the character?
Adam:  Oh, I'm so sarcastic. I've perfected it over the years.  I'm actually working to let my biting tongue go in my real life and keep my words and humor upbeat and uplifting, but I've also spent quite a bit of my life with a hard heart and sardonic sense of humor. That sensibility feeds right into Mr. Harris.
Katie:  Though the character isn't in every episode, he's left a huge impression on fans of the show. What do you think it is about Mr. Harris that makes him a fan favorite?
Adam: The writing.  Jeff Davis sets up the misdirection and suspicion so well.  I help, of course, but it's easy to play off what he sets up.  I suspect the audience likes Mr. Harris because they can't quite place him.  He could be so many things.  In a story that is fueled by suspense and anticipation, that's a powerful tool.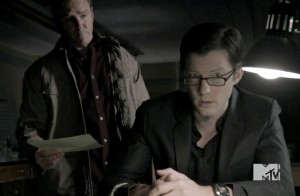 Katie: Your interactions with the actor who plays Stiles, Dylan O'Brien, are particularly enjoyable. Are you and Dylan friendly off-screen or do you maintain your gleeful hatred of him?
Adam:  No one could hate Dylan. He's such a gem and I feel fortunate to get to work with him.  We talk about acting a lot.  I teach actors and coach people for roles and auditions, so I'm always interested in young actors who are as skilled as he is.
Katie: What's the mood like on set in general on the show? Do you enjoy working with your other young costars?
Adam:  The team is great to work with.  And they work hard.  The show sets high goals and the hours are very long for the crew and stars.  It can be strange for me because I'm the type of actor who needs to stay in role throughout the day.  I don't joke around too much, and Mr. Harris has some baggage.  But, in general, the actors, directors and crew are engaged, supportive and serious about making the best show possible.
Katie:  The show's a huge hit with teens. MTV recently picked up Teen Wolf for a third season and ordered an impressive 24 episodes to air in the summer of 2013. Are you surprised with how successful the show is?
Adam: Like everyone, I wondered how anyone could make Teen Wolf into something new and engaging.  Then I worked on my first episode and saw what Jeff Davis was doing.  Then I read more scripts and shot a few more episodes.  It was obvious it was going to be a hit long before the Season 1 premiere.
Katie:  Have you seen any of the scripts for the upcoming season? Can you give us a hint about what season 3 might have in store for Mr. Harris?
Adam:  Haha!  No.  Sorry.  I don't have the slightest idea what's going to happen.  If you find out, could you please let me know?
Katie:  You've worked in theater, film and TV on all kinds of projects from dramas like Teen Wolf to comedies such as House of Payne. Do you find yourself using the same tools to prepare for roles in these different mediums, or a completely different set?
Adam: I think acting really breaks down to listening and responding, really committing to the given circumstances and making sure you bring a big piece of yourself to the role.  In that sense, it's the same set of tools.  Of course, the timing changes, I use different toolkits for accents, different languages, highly athletic roles, but at the heart of it, my approach is the same.  The outcome, however, is always new.
Katie:  Your fans might not know that you were classically trained and received your MFA from the Shakespeare Theatre Company. What do you consider to be the most valuable experience you gained from that education?
Adam: I went to that program to expand my range, ability to heighten my presence and really sharpen my toolkit.  The best part about digging into the classics with seasoned pros is that the stakes are so high in all of those plays.  In order to play them fully, you have to commit. And you have to commit with your full body, voice, intellect and spirit.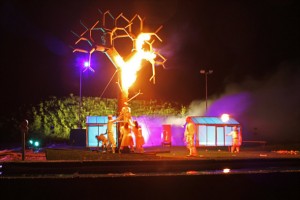 Katie:  You keep theater in your life by serving as co-artistic director of Out of Hand Theater. What appeals to you about working in the theater from an acting standpoint and from a directorial standpoint?
Adam:  The work I make at Out of Hand is very nontraditional.  We make live performances designed to reach those untouched by traditional theater, and we tour around the world.  We have shows that happen in cars one on one, MP3 led adventures across cities, I'm working on a text message drama and a performance with an Artificial Intelligence avatar.  As for acting on stage, I like the immediate connection to audience.  I like the immediate feedback.  I like the possibility of failure.  There are many things an actor can only learn by working in front of a live audience.
Katie:  You also teach acting classes at Emory University in Atlanta. Why is it important to you to fit teaching into your busy acting schedule?
Adam:  Well, first off, I like it.  Teaching is a joy.  Studying acting is an opportunity to deepen our understanding of what it means to be alive, to share the things that we have in common – fear, loneliness, joy, falling love, hoping to fall in love.  Teaching also helps me clarify what I know.  It's always an opportunity for me to learn, too.
Katie:  When teaching acting, what do you find yourself most often advising your students? What are your key acting tenets? What do you consider a successful performance?
Adam: By virtue of being human being, audiences know if an actor is being truthful or not.  This extends way beyond just the delivery of lines, but into the breath, business with props, thinking and listening.  I try to help students be truthful under imaginary circumstances, to listen and respond to everything, and to bring themselves to their roles.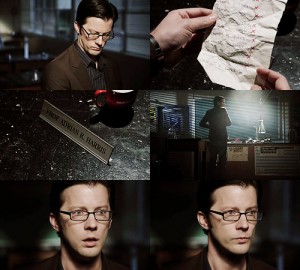 Katie: You're very active on Twitter, especially with your fans. What do you like about using social media sites like Twitter to communicate directly with viewers?
Adam: What a cool opportunity, to get direct feedback from and communication with fans, and in a way that doesn't involve stalking!  Honestly, I wish I was better at it, but I like hearing their ideas on the characters, finding out what they are interested in.  I've met some people I really like on social media that I wouldn't have come across any other way.  I mean, sometimes it's annoying, too, when fans beg for you to follow them.  But the fans who bring something unique to the table are a real pleasure.
Katie:  This summer you worked on the new series, Rectify, from the producers of Breaking Bad, set to air on the Sundance Channel. It looks to be much darker in tone than Teen Wolf. What can you tell us about the role you play on the show?
Adam:  Oh, this is going to be good.  I love the creative team. Ray McKinnon, who is the creator and writer, has a very similar background to me. We both came from small town, Georgia and both started in the theater.  He has made something good.  It is dark.  And it is much more like Independent Film, so it will be more gritty than Teen Wolf.  I can't tell you much, but I play Lenton James, the lithe male secretary to the District Attorney.  My character appears in the last 2 episodes of Season 1, but considering this drama centers heavily around the legal system, Lenton will likely be back in Season 2, bowtie and all.
Katie:  How did working on that set compare to the Teen Wolf set?
Adam: Well, Rectify shot during the day and Teen Wolf shot overnight so often, so that was different.  They are both great sets to be on, for different reasons.  Both are very dedicated to telling a compelling story.  It's an honor to work with teams like that.
Katie:  In addition to Rectify, where can your fans see you next? It looks like you have a few features in post?
Adam:  I wish I knew where everyone could see The Proxy, Echo at 11 Oak Drive and Congratulations!  They are all Independent Films made by some extraordinary talents and promise to be the darlings of the festival circuit.  I'll keep everyone posted on my Twitter account and website when I know more.  You will be able to catch me in the 1st episode of a new BET series, Second Generation Wayans, coming up in 2013.
Katie:  Last, but very important, question for you: what's your favorite film acting performance of all time?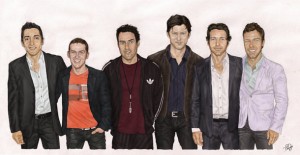 Adam: Basically anything Michael Caine does.  Actors who can make the smallest moments full of life, history and emotion consistently blow me away.  The new series, Homeland, is full of actors doing this.
Katie: Thank you for taking the time to speak with us, Adam.
Adam:  You bet. The pleasure was all mine.
— Follow Adam Fristoe on Twitter at http://twitter.com/AdamFristoe —
By Katie Moeller