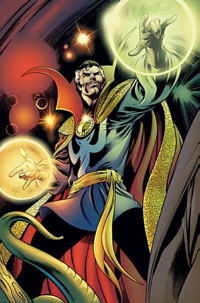 Marvel president Kevin Feige is often quoted on the fact that Dr Strange is his favorite character in the company's vast stable, and Twitch reports Feige has just been given the first draft of a screenplay and likes what he sees, going so far as to put feelers out for a director.
Doctor Strange began as neurosurgeon Dr. Stephen Strange, a world-renowned but selfish man who only cared about making money and maintain a luxurious lifestyle. When a car accident damaged his hands, preventing him from practicing surgery, the depressed doctor scours the world for a cure to his condition, Strange locates a hermit called the Ancient One. When Strange discovers the Ancient One's disciple, Baron Mordo, is attempting to kill him Strange selflessly thwarts the plans of dissent and in return is taught the mystic arts and becomes one of the most powerful characters in the Marvel universe.
The first draft comes from Thomas Donnelly and Joshua Oppenheimer, writers of  Sahara, Dylan Dog, and the upcoming Conan the Barbarian remake. Of course, knowing Marvel's penchant for rewrites gives those who find this list of credits a bit underwhelming some hope.
Dr Strange is on target for a release in 2013. We'll keep you posted when actors, directors, etc get attached.