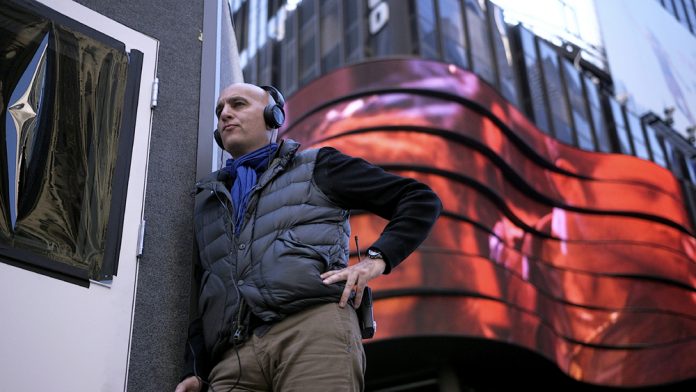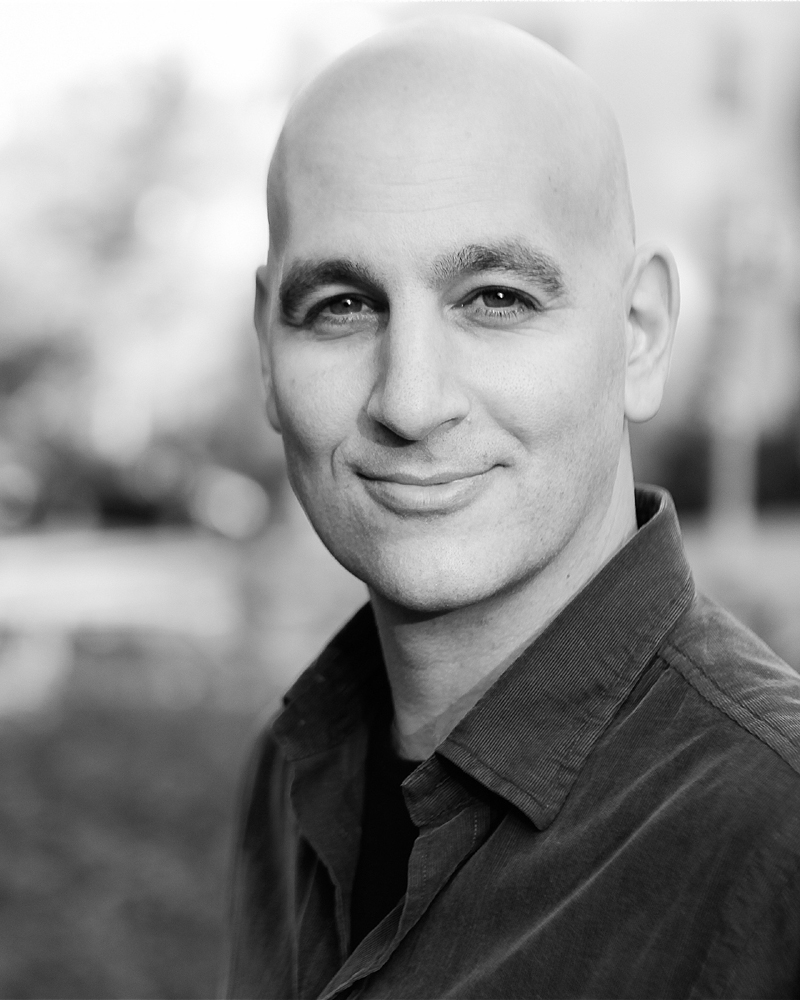 Award-winning director Peter Bishai is not new to filmmaking. He wrote and directed the true-life saga "Colors of Heaven" (also known as "A Million Colors"). The film won two South African Academy Awards, and Best Foreign Film at the WorldFest Houston Film Festival, in addition to being invited to open up the Hollywood Black Film Festival. He also directed the comedy "The Dueling Accountant," which won Best Comedy Film at the Philadelphia Independent Film Festival and Best First Feature at the Long Island International Film Expo.
Peter's latest film project in which he directed, co-wrote, and produced, is titled "Rapid Eye Movement." The film stars lead actor François Arnaud (The Borgias / Midnight, Texas) who dives into an intense, believable role as Rick Weider, a charismatic New York radio DJ who attempts to break the 11-day world record to stay awake while broadcasting from a booth in Times Square. There is a worthwhile tie-in to the story as part of Rick's publicity stunt is to highlight and raise money for a charity foundation for SMA (Spinal Muscular Atrophy). However, a deranged caller, played by actor David Rhodes, threatens to kill Rick if he falls asleep. Interesting nugget, Peter was able to cast an SMA boy named Dylan Cuevas to have a meaningful part of the film that impacts François' character. More talented cast help round out the story, including Reiko Aylesworth (24), Stelio Savante (Ugly Betty, Running for Grace), Chloe Brooks (Embeds) and stand-up comedian Godfrey (Godfrey: Regular Black).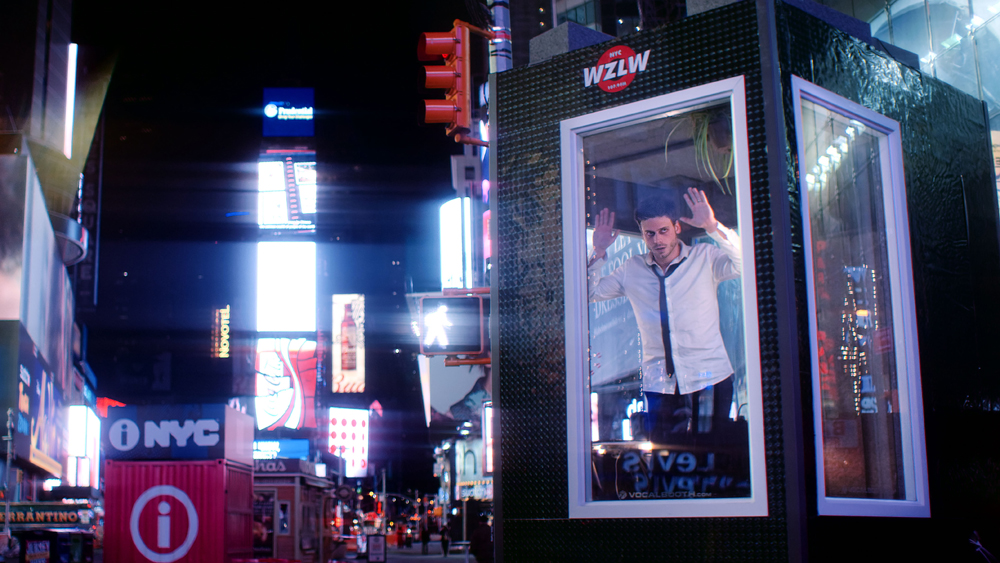 Peter was given unprecedented access by New York City to film a majority of "Rapid Eye Movement" in Times Square. I spoke to Peter about how he got started in the industry, how he came up with the idea for "Rapid Eye Movement", what input he had for casting, if he had any memorable stories to share, and how he dealt with filming in Times Square in New York including any location/film issues that might have come up. Peter answered my questions and shares some tips for filming in New York below.
Wendy Shepherd of Movie Vine: Please share a bit about how you got started in the film industry.
Peter Bishai: I've been a filmmaking fanatic since I was about twelve years old, growing up in Canada. Apart from making little films with friends, the first real thing I directed was a cable access film of the classic horror story "The Monkey's Paw" that was part of a high school class project. I studied film in college then toiled unsuccessfully in indie filmmaking after graduating. Then I was given an opportunity to work in the UK on a team of "script doctors" wherein I would help filmmakers from around the world improve their screenplays. That experience gave me a fantastic appetite for learning and sharing story structure. After a few years of that, I waded back into the indie filmmaking world and wrote and directed my first feature, "The Dueling Accountant."
Wendy: How did you get involved with your latest "Rapid Eye Movement" film project? Where did the story idea come from?
Peter: I came across the story of a radio DJ named Peter Tripp, who did a sleep deprivation marathon in 1959. Like our film, he did the marathon inside a glass booth in Times Square. I thought that was a fantastic idea for a movie, a strong concept that is rooted in a harrowing human journey. My writing partner and I wrote the screenplay on spec and shopped it around for a little while; at one point, a major film company was going to produce it, but ultimately it didn't happen. I had gone off and made some other films in the interim, always hoping to be able to make it on my own terms. Finally, the time was right to finance and produce it ourselves, and so I dived right in.
Wendy: Who had input about casting the actors? What stood out about them for you? Do you have any interesting stories from filming?
Peter: I worked with a fantastic casting director in New York, Jennifer Peralta-Ajemian, and we saw many actors for the roles. For the lead, Francois Arnaud was recommended to my producing partner by a mutual friend, and when I saw his range and charisma, I knew he was the one. Because we would be filming for real on location in Times Square, this posed a particular challenge for whoever would play the lead. He would have to ride an intense emotional roller coaster in the middle of thousands of people nearly every day. What's great about Francois is that he embraced the challenge of it, even knowing how daunting it would be.
Wendy: How long was the prep time before you started filming in Times Square?
Peter: We had about a month of pre-production with our key team, although there were many months of figuring out logistics to come up with a shooting strategy to actually be able to film in Times Square.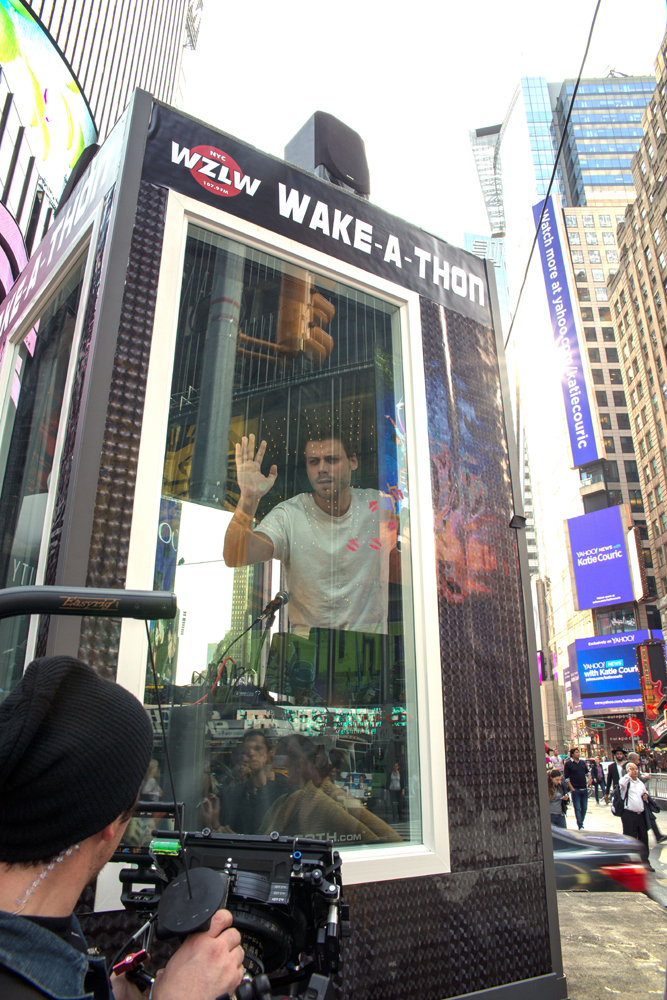 Wendy: How long did it take you to build the DJ booth? Were you able to keep it in one location during the entire time for filming?
Peter: The booth is a custom-built sound recording vocal booth, which enabled us to record great sound in the middle of a very noisy Times Square. The way we were able to shoot in Times Square was to mount the booth on the back of a flatbed truck and drive it in and out of our location every day. All of the lighting was built into the actual set on the flatbed, and so the whole set and rigging was self-contained on the truck. This meant that we would have a very small footprint in Times Square, and once we presented this plan to the city gatekeepers, they gave us the permits to film there. Keep in mind that no film has ever shot with a physical set in Times Square and certainly not for the amount of time we did. So it's pretty groundbreaking what we were able to do.
Wendy: Did people come up to you and ask about the "Wake-A-Thon"?
Peter: All the time! A lot of people thought it was a real "Wake-A-Thon" in progress, and I could often hear people exclaiming things like, "wow, he's been up for 200 hours!"
Wendy: What did you do with the booth once you finished filming?
Peter: We sold it to a music producer! Hopefully, some great vocals are being recorded in it, minus the sleep deprivation.
Wendy: What were the biggest challenges you faced while filming in Times Square?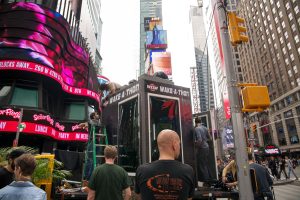 Peter: The biggest challenge with any independent film is wrestling with a short shooting schedule. Because we were given a finite number of days to shoot in Times Square, it was imperative to stay on schedule, which fortunately we did. But apart from that, it was actually a lot of fun to shoot there; the energy is just amazing.
Wendy: How did you handle the New York City crowd while filming? Did you need any type of police security or direction?
Peter: Unlike most films, where you tried to keep the crowds at bay, we wanted the crowds in our shots as much as possible! The more they would come around and gawk at Francois' ordeal, the more real the film would be because that's exactly what's happening in the story. It's the main reason I wanted to shoot for real in Times Square and not try to do a green screen approach in a studio because we would never get that authenticity you can only get from having real crowds move in real-time on location. There were several scenes in the film where the crowd played a bigger role in the story, such as when an impromptu dance party breaks out in front of the booth. In those cases, tons of passersby would volunteer on the spot to act in the scenes; it was fantastic.
Wendy: The film is beautifully shot. Did you need to have any special film equipment that you wouldn't normally use?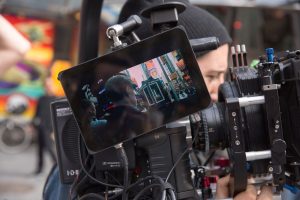 Peter: The entire film was shot handheld in 6K resolution. The most important piece of equipment we had was a very special vintage wide-angle 18mm Zeiss lens that allowed us to shoot in the confined booth up close to Francois while retaining a wide field of view of Times Square without the distortion you get from inferior wide-angle lenses.
Wendy: What were some unexpected things that came up during filming, and how did you address them?
Peter: There's an early scene in the film that takes place on the Queensboro Bridge very late at night, one of the few non-Times Square locations in the story. We were filming on the bike and pedestrian path, and even though we had a permit to shoot there, we were confronted by various irate cyclists who did not want to be inconvenienced in any way. At one point, an actual fight broke out between a cyclist and a crew member, and I had to break it up before it got out of hand physically. Suffice it to say; you never want to tick off an NYC cyclist; they are a tough bunch!
Wendy: What time of year and duration of filming? Did you have weather issues?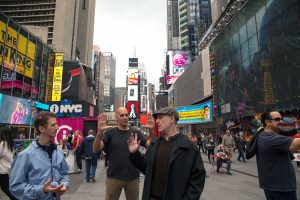 Peter: We filmed in mid-Autumn and fortunately didn't have weather issues, but of course, you could never predict that. I knew this could be a problem going into the shoot since our shooting schedule in Times Square was set in stone, and there was no room for delays. So to mitigate that, I made sure to schedule every scene in the script to shoot within a half-day of shooting so that no scene could be filmed over different days. The reason for that is if it were raining one day, the entire scene would be completed within the rain period so that the weather would be consistent for the whole scene. As it turned out, we only had one rainy day, and it came during a particularly emotional speech Francois had to deliver, so the rain actually worked to our advantage since the gloomy weather so mirrored what was happening emotionally.
Wendy: What were some of the challenges during the editing process?
Peter: By far, the most challenging part was creating thirty CGI shots on a very, very limited budget.
Wendy: Do you have a few tips for other filmmakers who may film in New York?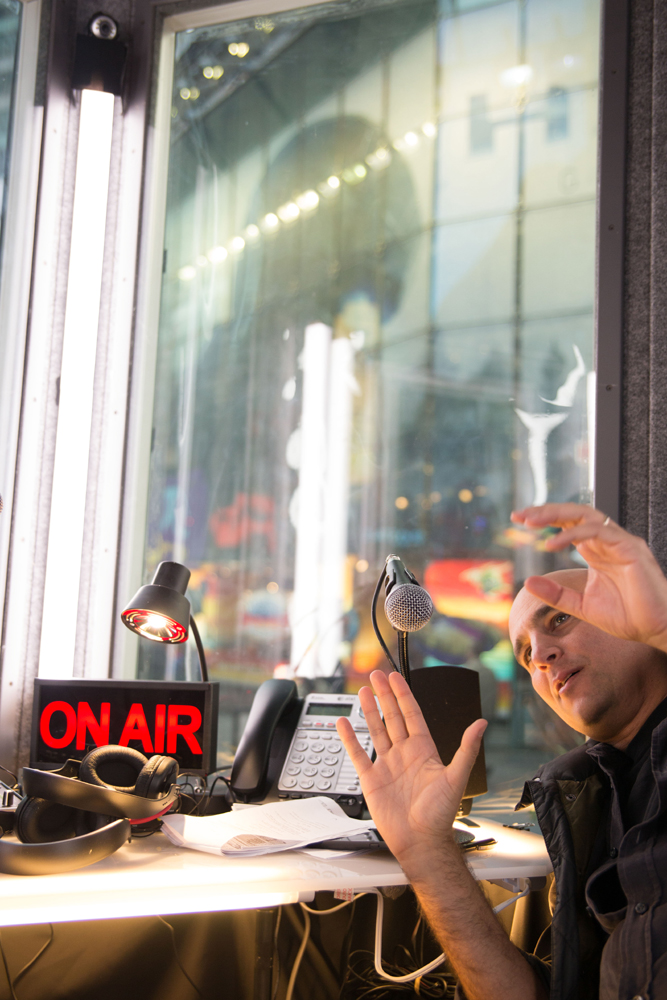 Peter: A lot of people don't realize how filmmaker-friendly New York is. Permits to film in almost any public location are free! This shocks most people when I mention it to them. So take advantage of the many incredible places to film and find stories and shots that integrate the intensity of the city in an organic way.
Wendy: Share your latest news; what are you working on next?
Peter: I'm developing several projects which I hope to film sooner, not later including a romance between a teenage girl and mysterious masked cat burglar and a comic thriller set in Egypt.
Wendy: Best wishes with your new projects Peter!
"Rapid Eye Movement" is available on digital outlets such as Amazon, YouTube, Google Play, Vudu, etc. Check out the "Rapid Eye Movement" trailer below:
Visit Peter Bishai's website for examples of his film work.
In addition, you can look into a couple of charity foundations for SMA (Spinal Muscular Atrophy) and learn how to get involved and help spread the word:
Cure SMA and SMA Foundation.
Thanks for reading! Please share! ~ Wendy Shepherd