Note: While Disney has indeed released Finding Nemo in 3D Blu, the author of this review doesn't own a 3D television. Both 3D and 2D sets have the same special features and technical specifications, so assume that the only bonus to the 3D Blu is the 3D version of the film.
If Disney knows one thing, it's this: more than any other studio, their legacy defines them. Their name is that of a man who did wonderful things and changed the entertainment industry forever, and their isn't a single American alive today that hasn't been touched by Disney in some way. A lot of this influence is due to the studio's animated films, a library that consists of classics that any parent can share with their child. Disney has approached home media smartly, releasing their classics in the best possible version the medium will allow. BluRay has been particularly kind to Disney, allowing for Cinderella, Snow White, The Lion King, Beauty and the Beast,and others to enter homes as crisply as they entered theaters upon their original release.
Finding Nemo is the latest Disney film to get the special Blu treatment, and while it may not be as old as Cinderella or Sleeping Beauty, it is just as influential and magical. It is pointless to review Finding Nemo, seeing as I can't imagine anyone not seeing the film already. Lines from the film have penetrated the pop culture lexicon so deeply that I defy you to go to a beach and not find someone saying "Mine!" at the sight of a seagull, and the next time your in an elevator hum the first few bars of "just keep swimming" and see how many people join in. Finding Nemo is an institution at this point, and Disney knows this as much as anyone.
With that in mind, the Finding Nemo Blu has been given the five star treatment. Not only does the film look amazing, but it's accompanied by hours and hours of exhaustive bonus features, chronicling the film's conception, production, release, and a retrospective regarding the film's influence on latter animated films. Disney and Pixar are proud of this one, as they should be, and no expense is spared to share as much knowledge about the film as possible.
With Christmas around the corner, this is a must own for any family, and an excellent stocking stuffer. With all the great BluRays released this year, Finding Nemo may be the one to come out on top.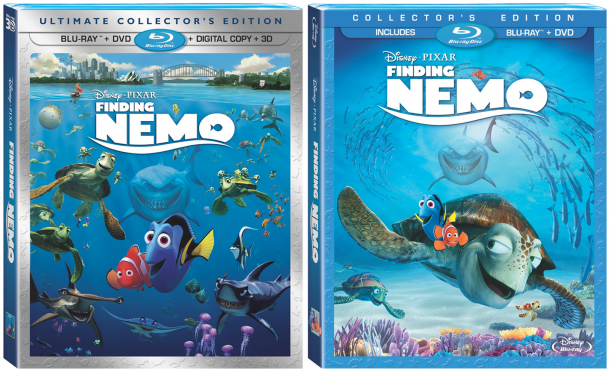 Finding Nemo is now available on BluRay and DVD. You can order it right here.